Location: Resolven, Neath.
Post code: SA11 4AH
Property Type: Detached
Make of Fire: Clarke
Model: Firefox 5
KWH Value: 5KW
Flu Type: Midtherm 316 flexi liner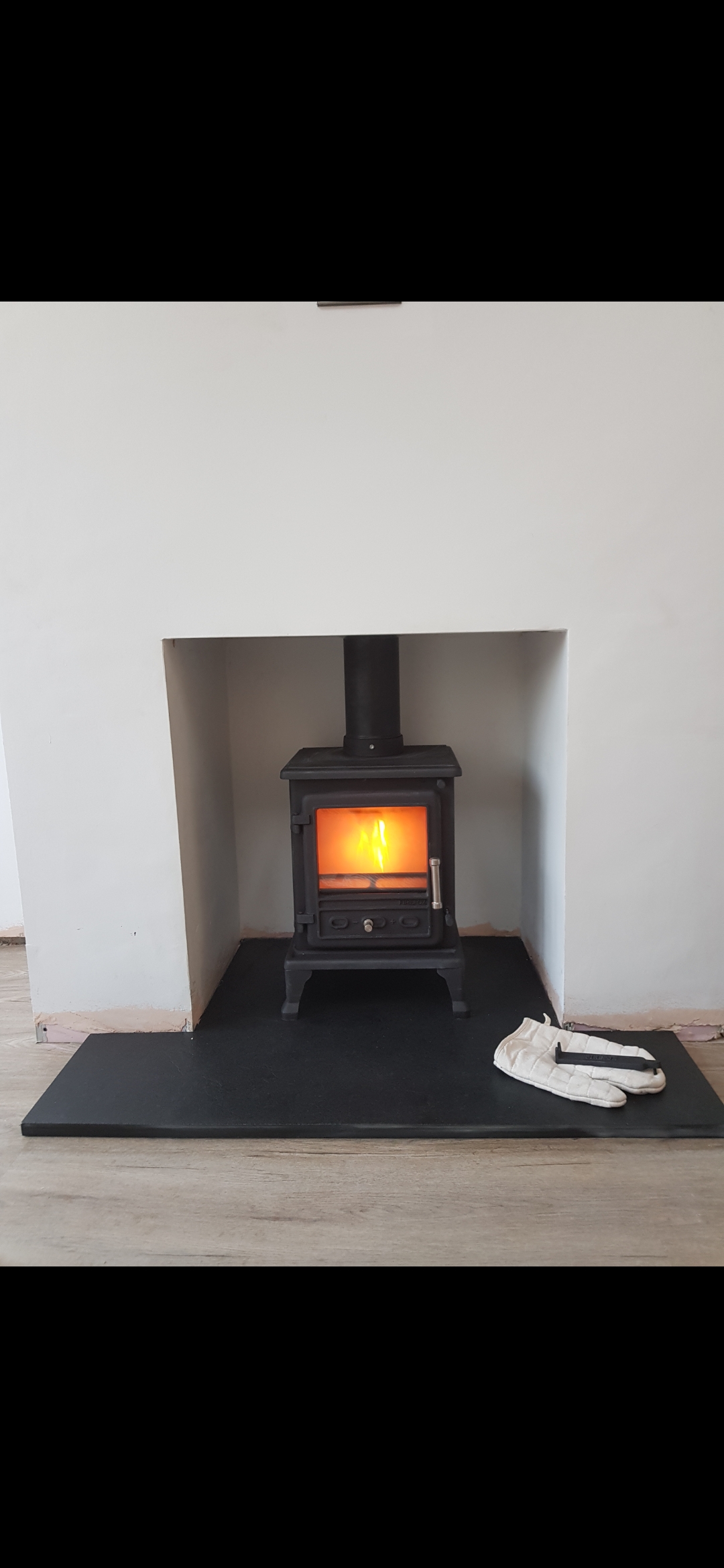 Description of work carried out (detailed):
Hopkins Log Burners recently completed an installation project in Resolven in the Neath Valley featuring the Clarke Firefox 5 5KW Multifuel stove.
This charming addition not only brings warmth to the home but also elevates its overall ambiance. Join us as we explore the details of this remarkable fireplace transformation.
The Timeless Appeal of the Clarke Firefox 5 Multifuel Stove
The Clarke Firefox 5 Multifuel stove boasts timeless appeal, blending classic design with modern efficiency. This versatile stove is the perfect choice for homeowners seeking a warm and inviting atmosphere, coupled with the convenience of using multiple fuel types.
Expert Flue Liner Installation for Optimal Performance
Our skilled team ensured optimal performance and safety with the installation of a midtherm 316 flexi liner. By carefully dropping the 5″ flue liner and attaching a terracotta pot hanging cowl to the existing chimney pot, the flue system was seamlessly integrated, allowing for efficient venting and minimising heat loss.
A Bespoke Hearth: Elevating Aesthetics and Comfort
The installation also included the laying of a bespoke 25mm hearth slate, tailored to the unique dimensions of the room. This bespoke hearth not only adds a touch of elegance to the space but also provides a solid and level foundation for the Clarke Firefox 5 stove.
Expert Assembly: Connecting the Vitreous Pipe Work
To ensure a flawless installation, the skilled team at Hopkins Log Burners expertly attached and connected the vitreous pipework to the liner and stove respectively. This meticulous process guarantees efficient and safe operation, allowing homeowners to enjoy the cosy warmth of the stove without any worries.
Experience Cosy Comfort Today: Contact Hopkins Log Burners
Ready to experience the comfort and charm of the Clarke Firefox 5 5KW Multifuel stove in your home? Contact Hopkins Log Burners today to learn more about this captivating fireplace transformation and the range of services they offer customers across the Neath and Port Talbot area.
Don't miss the chance to elevate the comfort and aesthetics of your home with the Clarke Firefox 5 Multifuel stove installation. Contact Hopkins Log Burners at 01792 949639 or visit our website to explore this remarkable stove and other fireplace solutions.
Hopkins Log Burners' expertise and dedication ensure a flawless installation that will bring warmth and joy to your home. Experience the difference today!