Tucked away in the quaint village of Cwmtwrch, this charming semi-detached home lacked a proper heat source to keep its owners warm through the chilly Welsh winters. Looking to add some cosy comfort to their living room, the homeowners contracted with Hopkins Log Burners, specialist multifuel stove installers, to install an efficient new appliance.
At a Glance: Cwmtwrch Multifuel Stove Installation
Location: Cwmtwrch, a village in the valley of the Afon Twrch, a right-bank tributary to the Swansea Valley, Wales, some 15 miles north of Swansea.
Postcode: SA9 2PN
Property Type: Semi-detached
Contractor: Hopkins Log Burners specialist Wood burner, multifuel and biomass pellet stove installers
Project: Multifuel stove installation
Stove Make and Model: Stove Buddy Classic 5 KW
Flue Type: 316 Mi Flue
Output: 5 KW
Installing an Efficient Multifuel Stove
With over a decade of experience providing premier stove installations throughout the region, Hopkins Log Burners was up to the task. The project involved:
Locating and exposing the original chimney.
Dropping a 316 Mi Flue liner.
Running 5″ vitreous pipework to connect to the liner.
Non-combustible boards were also fitted to meet fire safety regulations. The Stove Buddy Classic 5 KW model was chosen for its durability, efficiency, and classic style – perfect for warming the cosy cottage.
Completed Multifuel Stove Install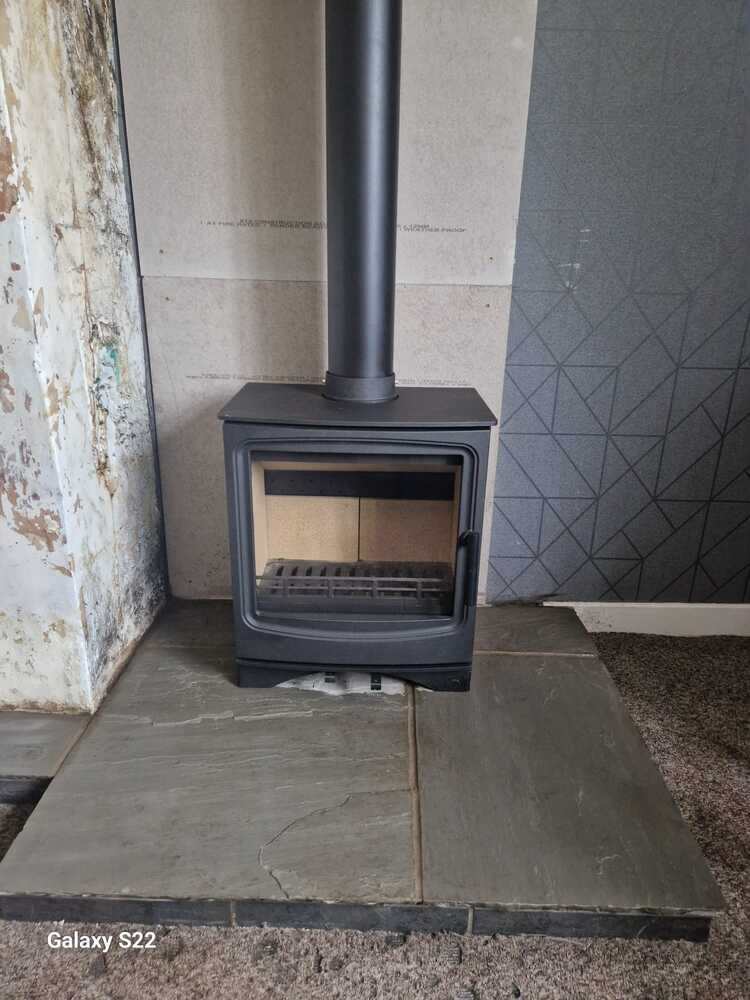 A Satisfied Stove Buddy Classic 5 Customer
The homeowners were thrilled with the result, reporting that the new multifuel stove was immediately easy to use and provided excellent heat output. The installation process went smoothly and painlessly.
When the Welsh weather turns blustery and damp, the owners can count on glowing warmth emanating from their Stove Buddy to make their living room the cosiest spot in the valley. This expert stove installation will provide comfort and reliability for years to come.
About Hopkins Log Burners
Based in the Swansea Valley, Hopkins Log Burners has over ten years of experience installing multifuel stoves, wood burners, and biomass pellet fires for homes across the Swansea Valley region. They provide a full range of services, including supplying and fitting all types of wood burners, multifuel stoves, Biomass Wood Pellet Fires, appliance servicing, and repairs. For premium stove installations that keep homes cosy and warm, Hopkins Log Burners delivers quality and reliability.
Stay Warm This Winter – Contact Hopkins Log Burners Today!
For expert multifuel stove installations and reliable warmth all winter, contact the professionals at Hopkins Log Burners. Call 01792 949639/ 01792 816090 or email info@hopkinslogburners.co.uk to get a quote for your home today!