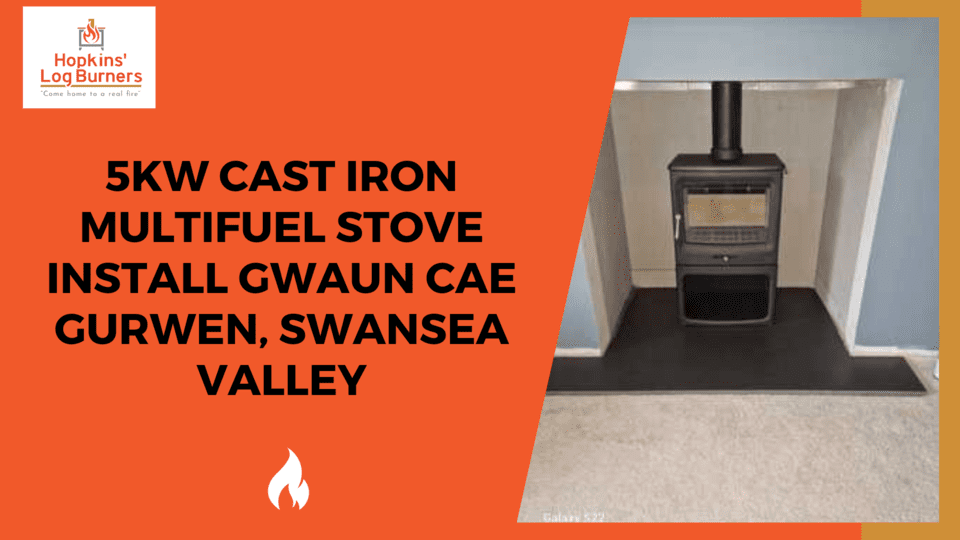 Nestled amongst the picturesque hills of Swansea Valley lies the village of Gwaun-Cae-Gurwen, located just 5 miles east of Ammanford and 15 miles north of Swansea.
Dotted with quaint chapels, farms and rolling greenery, the settlement exudes old-world charm coupled with modern-day amenities. It is here that Hopkins Log Burners recently retrofitted a semi-detached property with a brand new cast iron F2 Vue Landscape Log Store multifuel stove
Installation Details of 5KW F2 Vue Landscape Log Store Multifuel Stove
Location: Gwaun-Cae-Gurwen- is a village and community in Swansea Valley. located five miles east of the nearest town of Ammanford and nearly fifteen miles north of Swansea. Nearby villages include Cwmgors, Lower Brynaman & Tairgwaith.
Post code: SA18 1HD
Property Type: Semi-Detached Property
Contractor: Hopkins Log Burners specialist Wood burner, multifuel and biomass pellet stove installers
Project: Cast Iron Multifuel Stove Installation
Make of Fire: F2
Model: Vue Landscape Log Store
KWH Value: 5kw
Flu Type: 316 Mi Flue
Preparing the Fireplace
We began by cutting and securing fire boards to the recess to square up the existing fireplace- this created a clean slate to build upon.
Crafting a Slate Hearth
Next, a bespoke 1500mm slate hearth was cut and laid, providing an attractive and functional base for the new stove. Matching the Welsh Slate to the surroundings lent an authentically local touch.
Installing the 316 Mi Flue
One of the most technically complex aspects was installing the flue system. We opened the roof to expose the original chimney and dropped in a 5″ 316 stainless steel flexible flue liner.
After resealing the roof, we installed a TW PRO flue kit with lead flashing for weatherproofing- this ensured the stove would vent safely and efficiently.
Results: A Cosy & Efficient Home Heating System
The clients now enjoy glowing warmth and ambiance from their new Vue Landscape 5KW output. The high-quality cast iron build radiates heat steadily across the living room.
Being a multifuel appliance, the owners can alternate between burning wood logs and smokeless fuels based on availability and cost savings. Plus, the stove's 80% efficiency rating significantly lowers its heating expenses compared to dated open fires.
Overall, the installation's clean execution, coupled with the stove's reliability and versatility, has delighted the homeowners – precisely the outcome we aim for in all our projects.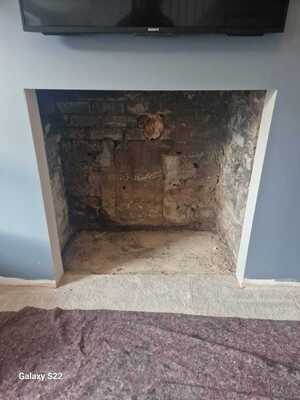 About Hopkins Log Burners
With decades of combined experience fitting stoves across Swansea Valley, our team brings passion, skill, and professionalism to every wood burner, multifuel, and biomass pellet stove installation.
Beyond installations, we also handle servicing and repairs for most major brands.
Get in touch today on 01792 949636 to transform your fireplace with an efficient, eye-catching stove from Hopkins Log Burners!