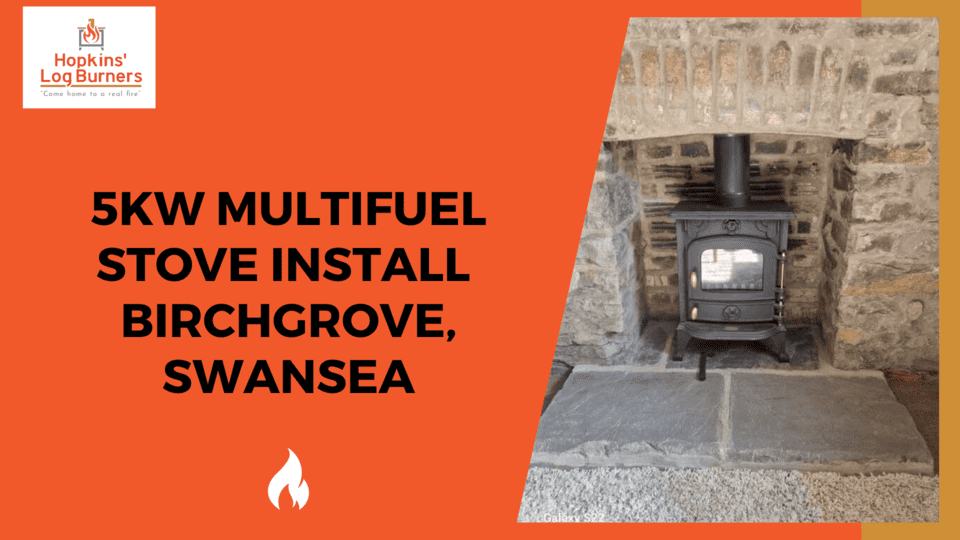 Hopkins Log Burners completed the installation of a new high-performance 5kW multifuel stove for a semi-detached house in Birchgrove, located northeast of central Swansea near Swansea Bay. The new multifuel stove install upgraded the home's heating system and comfort. The Birchgrove homeowner was very satisfied with our seamless stove installation.
Residential Stove Installation at Birchgrove: At-A-Glance
Location: Birchgrove is a suburb and community in Swansea, Wales, United Kingdom. It is situated about 4.5 miles north-east of Swansea city centre,
Post code: SA7 9NA
Property Type: Semi-Detached house
Contractor: Hopkins Log Burners specialist Wood burner, multifuel and biomass pellet stove installers
Project: Multifuel Stove Install
Make of Fire: Clarke
Model: Buckingham
KWH Value: 5kw
Flu Type: Midtherm 316 flexi liner
Efficient 5KW Multifuel Stove Installation in Birchgrove
We began by locating the chimney flue via the chimney stack on the roof and removing the existing, unused gas flue. A new Midtherm 316 flexi liner was installed in its place. The liner was dropped, and the chimney repointed prior to fitting a new chimney pot with a hanging cowl.
A registry board was fitted, and the liner connected to the new Clarke Buckingham 5kW multifuel stove via vitreous pipework. The system was meticulously tested and signed off to complete the professional installation.
'Glowing' Testimonial for the Multifuel Stove Install
The Birchgrove homeowner praised our work and technicians' expertise throughout the seamless stove installation project. They were pleased with the improvement in heating capability and visual appeal. This stove upgrade epitomises a commitment to optimising home comfort through customised service.
"I'm so happy with how great the new stove looks and heats. It was an excellent job start to finish," said the satisfied homeowner.
Completed Birchgrove Clarke Buckingham 5KW Multifuel Stove Installation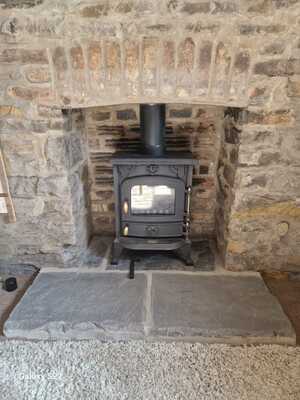 Hopkins Log Burners: Specialist Burner & Stove Installers for Homes & Businesses in Swansea
For over 15 years, Hopkins Log Burners has provided South Wales customers with exceptional multifuel stove installations, replacements, servicing and repairs. Our HETAS approved multifuel stove installers have the skills to properly fit high-efficiency stoves that enhance home heating. Contact us at info@hopkinslogburners.co.uk or 01792 949639 to schedule your multifuel stove installation. We serve Birchgrove, Swansea, Neath Port Talbot and surrounding areas.