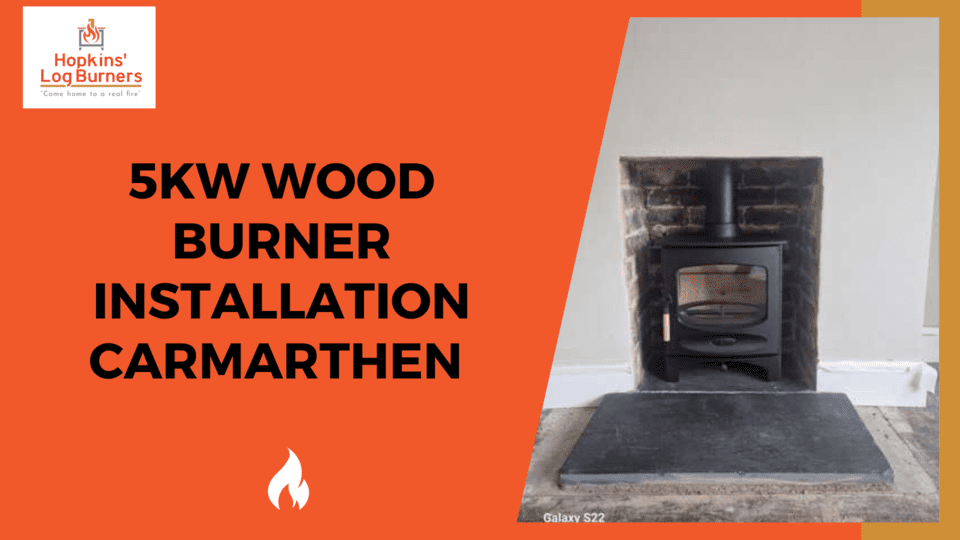 Nestled in the heart of West Wales, Carmarthen is a historic market town rich with culture and scenic beauty. Surrounded by lush Welsh countryside and lying along the meandering River Towy, Carmarthen provides an idyllic setting to call home.
When a local couple sought to enhance the cosiness and charm of their semi-detached property, they called upon the expertise of Hopkins Log Burners, specialist wood burners, and multifuel and biomass pellet stove installers.
Key Details of the 5KW Wood Burner Installation
Location: Carmarthen- the county town of Carmarthenshire, lying on the River Towy 8 miles north of its estuary in Carmarthen Bay.
Postcode: SA31 3DJ
Property Type: Semi-Detached Property
Contractor: Hopkins Log Burners specialist Wood burner, multifuel, and biomass pellet stove installers
Project: Wood Burner Installation
Make of Fire: Charnwood
Model: C5
KWH Value: 5kw
Flu Type: 316 Mi Flue
Bringing Efficiency and Aesthetic Appeal with the Charnwood C5 Wood Burner
With its handsome traditional design and 5kw heating output, the client opted for the Charnwood C5 wood burner to enhance their living room. This British-made appliance combines high efficiency with subtle elegance. The C5's fully welded steel construction ensures safety, while its wide viewing window provides a delightful glow and ambiance.
Custom Wood Burner Install Focused on Safety and Precision
To properly install the C5 wood burner, our team utilised a 316-grade flexible stainless steel liner. This top-tier liner provided superior protection for the chimney. After dropping the liner into place, a hanging cowl was secured at the top to seal the system fully.
With the chimney prepared, the focus shifted to outfitting the fireplace. A registration plate was installed to form an airtight seal between the fireplace and chimney, preventing leakage of dangerous gases into the home. The C5 wood burner was then set into place and connected using high-temperature vitreous pipes. Rigorous testing ensured proper draft and ventilation.
Bringing Warmth and Charm to the Heart of this Carmarthen Home
The installation of the new Charnwood C5 wood burner imparted an added sense of homeyness and vibrancy to the client's living space. Friends and family can now gather around the hearth, enjoying the mesmerising dance of flames behind the burner's glass window.
The clients were delighted with the new centerpiece, which provides reliable heating while accenting their home with rustic allure.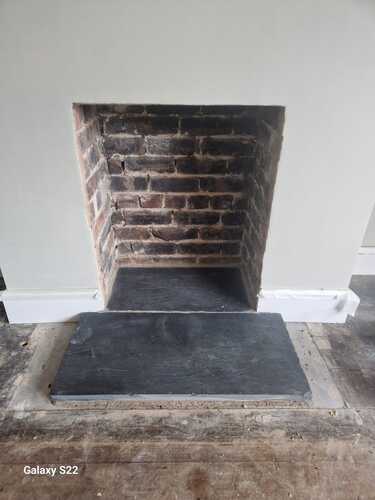 As experienced specialists in wood burners, multifuel stoves, and biomass pellet fires, the team at Hopkins Log Burners consistently delivers exceptional results for homeowners seeking to enhance their living spaces.
About Hopkins Log Burners
Proudly serving Carmarthenshire for over 10 years, Hopkins Log Burners provides full-service stove installations, maintenance, and repairs.
Our team brings expertise across all major brands, from wood burners to multifuel stoves and biomass pellet fires.
Whether you seek an appliance to anchor a new living space or want to replace an old stove with new heating efficiency, Hopkins Log Burners will actualise your vision. Contact us today to schedule your consultation.