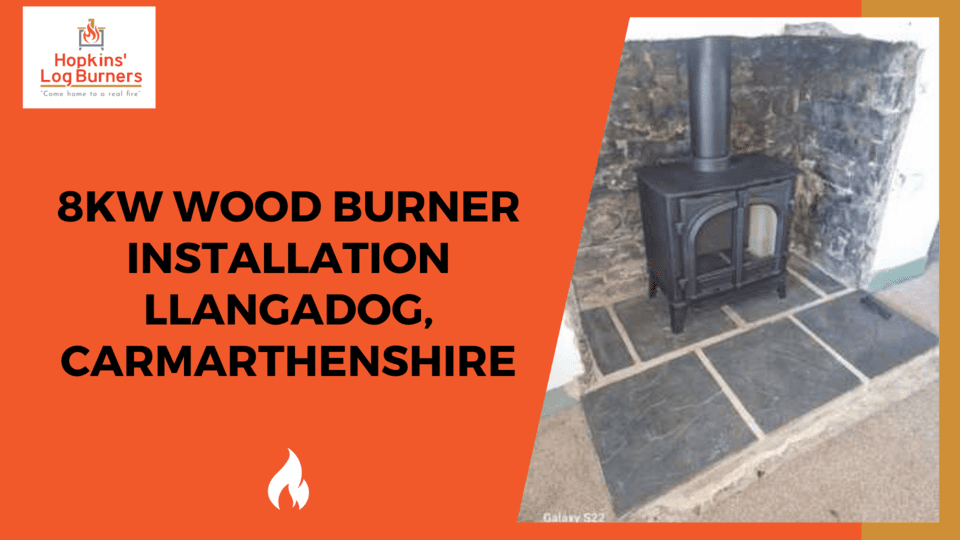 Llangadog is a village and community located in Carmarthenshire, within 10 miles of the market town Llandovery. Surrounded by the lush Welsh countryside, Llangadog is known for its strong heritage and agricultural roots. The nearby villages of Llandeilo and Llanwrda provide quaint country charm.
It was here in a detached house in Llangadog that we recently completed a wood burner installation project for a customer.
Wood Burner Install Llangadog, Carmarthenshire: Project Overview
Location: Llangadog, a village and community in Carmarthenshire
Post code: SA19 9BU
Property Type: Detached house
Contractor: Hopkins Log Burners specialist Wood burner, multifuel and biomass pellet stove installers
Project: Wood Burner Install
Make of Fire: Stovax
Model: Stockton 8
KWH Value: 8kw
Flu Type: 6″ 316 flexi liner
Details of Stovax Wood Burner Installation
Hopkins Log Burners, specialist installers of wood burners, multifuel, and biomass pellet stoves, our team transformed the living room into a cosy space.
We began by safely dropping and securing a 6-inch Mi flue flexi liner to a terracotta pot hanging cowl, providing an escape route for smoke and fumes. After cutting and securing concrete board as a registry, we attached the vitreous pipework to the liner and secured it into the brand new Stovax Stockton 8 stove.
With its 8KW heating capacity, this British-made cast iron stove provides ample warmth efficiently. We carefully aligned the stove before testing the system to ensure functionality.
The Completed 8KW Stovax Stockton 8 Stove Install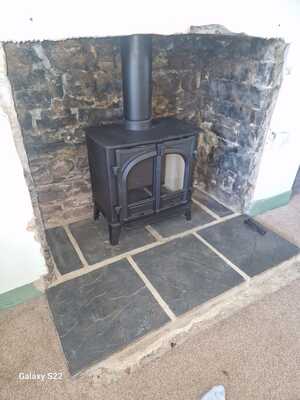 Llangadog Customer's Response
Within a day's work, we completed the installation of the customer's dream stove. They were thrilled with the stove as the new centerpiece, raving about its traditional style and heating ability.
The customer thanked us for the quality craftsmanship and attention to detail. They can now stay cosy thanks to their new 8KW Stovax Stockton 8 stove expertly installed by Hopkins Log Burners.
Hopkins Log Burners: Premier Wood, Multifuel & Biomass Pellet Stove Specialists Throughout Carmarthenshire
Hopkins Log Burners provide customers across Carmarthenshire with wood burner and stove services including:
Supplying and fitting all types of wood burners, multifuel stoves and biomass pellet fires
Servicing and repairs of appliances
Expert installation by qualified professionals
For top quality stoves and professional installations in Carmarthenshire and throughout South Wales, contact Hopkins Log Burners on 07498959603