Imagine the charm of a Mumbles town house elevated by the allure of a wood burner's warmth. Join us on this journey as we explore how Hopkins Log Burners brought this vision to life, blending comfort and style seamlessly.
A Stunning Wood Burner Stove: The Perfect Blend of Comfort and Style
Location: Mumbles on the western edge of Swansea Bay
Post Code: SA3 4LX
Property Type: Terraced town house
Contractor: Hopkins Log Burners
Make of Fire: Miflue
Model: Tinderbox medium
KWH Value: 5kw
Flu Type: 316 midtherm
A terraced town house in Mumbles sought warmth and elegance. With expertise from Hopkins Log Burners, their living space would undergo a transformative makeover with a wood burner installation that balanced cosiness and aesthetics.
Opening Roofs and Bespoke Mantles
Our skilled team orchestrated a transformation that seamlessly combined functionality and aesthetics, ensuring the homeowner's satisfaction and comfort.
Opening the Roof and Flue Liner Placement: With precision, we opened the roof and dropped a 316 Midtherm flue liner, ensuring optimal efficiency and safety.
Bespoke Oak Mantle: The focal point was a bespoke oak mantle, meticulously cut, planed, and fitted for added character.
Perfectly Placed Wood Burning Stove
Wood Stove Installation: The heart of the project was the installation of the Miflue Tinderbox Medium 5KW stove. Our experts ensured precise placement, guaranteeing both functionality and stunning visuals.
MiFlue Tinderbox Medium 5KW Wood Burner Installation Complete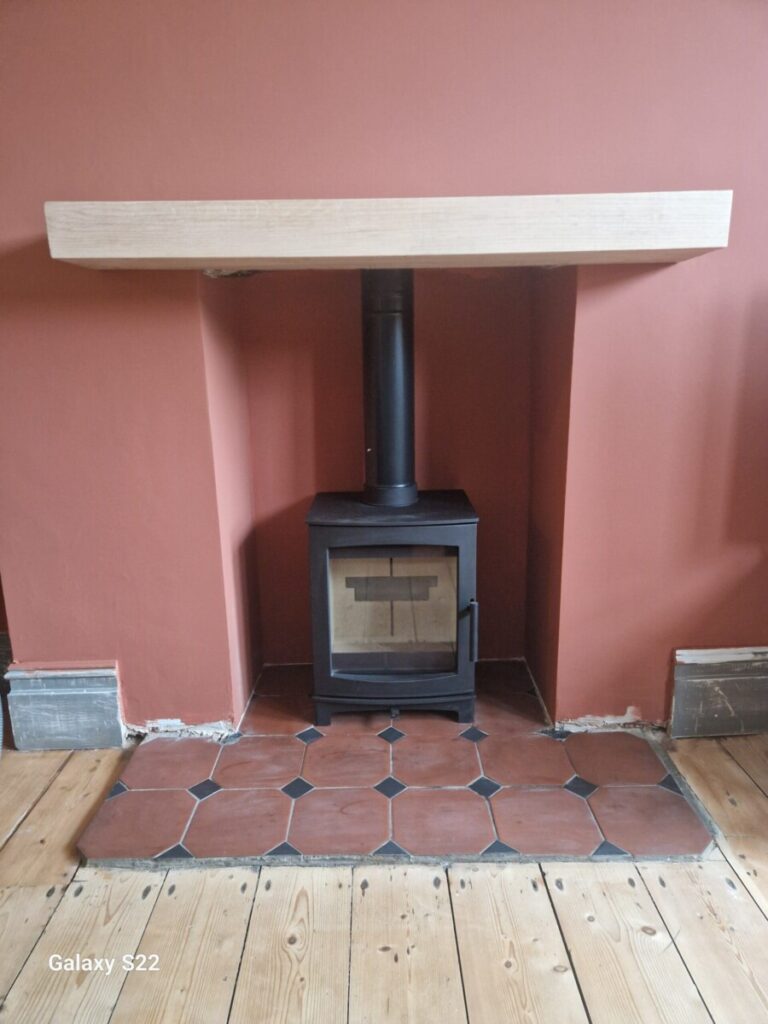 Homeowner's Delight With Their New Log Burner
The homeowner's delight was palpable as they marveled at the newfound warmth and aesthetic allure of their living space.
In their words: "We are immensely satisfied with the installation of both the multifuel burner and the flue. The oak mantle has provided the perfect finishing touch to our fireplace, making it a focal point of our home. Hopkins Log Burners exceeded our expectations, delivering not just a stove but a complete transformation."
Experience the Magic with Hopkins Log Burners
This captivating wood burner installation in Mumbles, Swansea showcases the expertise and dedication of Hopkins Log Burners. By harmonising warmth, aesthetics, and functionality, we've created a space that reflects the homeowner's vision.
Discover the wood burner installation cost for your dream home, and rely on the expertise of experienced log burner installers like Hopkins Log Burners for a seamless process. Enhance your living space with a captivating wood burner 5KW installation today.
About Hopkins Log Burners Your Trusted Partner in Swansea
Experience the magic with Hopkins Log Burners. As your go-to contractor, we provide comprehensive services across Swansea. From supplying and fitting various wood burners and multifuel stoves to Biomass Wood Pellet Fires, we cover it all. Our expertise extends to appliance servicing and repairs, ensuring your comfort is paramount. Join us on this transformative journey.
For more on our services or needing any information or advice, get in touch with our professional and friendly customer service team on 07951184293 or email info@hopkinslogburners.co.uk today.