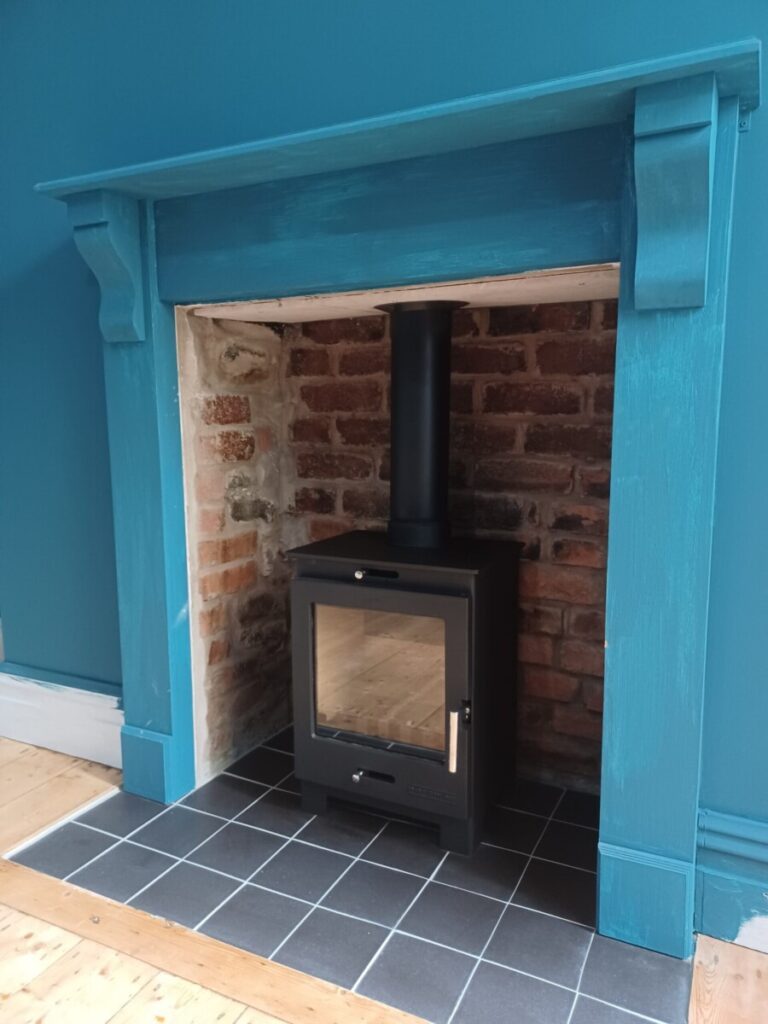 Description of Work Carried Out (detailed):
In the picturesque setting of Llangennech near Llanelli, Carmarthenshire, Hopkins Log Burners recently undertook an impressive wood burner installation project. Adding warmth and charm to a semi-detached property, the installation featured the Portway Arundel 5KW Woodburner with a 5″ Mi Flue Liner. Join us as we explore the details of this cozy transformation.
Wood Burner Installation: At-A-Glance
Location: Llangennech, nr Llanelli, Carmarthenshire
Post code: SA14 8AX
Property Type: Semi detached house
Contractors: Hopkins Log Burners specialist Wood burner, multifuel and biomass pellet stove installers
Project: Wood Burner Installation
Make of Fire: Portway
Model: Arundel
KWH Value: 5kw
Flu Type: 5″ Mi flue liner
Discovering the Hidden Gem
Unveiling the Original Chimney Flue At the heart of this installation project was a meticulous process of uncovering the capped-off original chimney flue. We skillfully opened up the roof, unveiling the dormant potential of the existing chimney. This step set the foundation for a seamless installation, ensuring efficient and effective heating for the homeowners.
Safeguarding with Precision
Installing the Mi Flue Liner and Accessories Ensuring safety and longevity were paramount during the installation. The team expertly dropped a new flexi liner through the chimney, complemented by the addition of a mounting plate, 1m twin-wall flue, flashing, storm collar, and anti-downdraft cowl. The meticulous sealing of the roof provided a robust and weather-resistant setup.
A Flawless Connection
Securing the Woodburner in place with the groundwork complete, we attached an adaptor to the bottom of the liner and cut and fitted a registry plate to prevent debris from entering the room. The wood burner was positioned with precision, and the vitreous pipe was securely joined and sealed to ensure a flawless connection.
Portway Arundel 5KW Woodburner with a 5″ Mi Flue Liner; Completed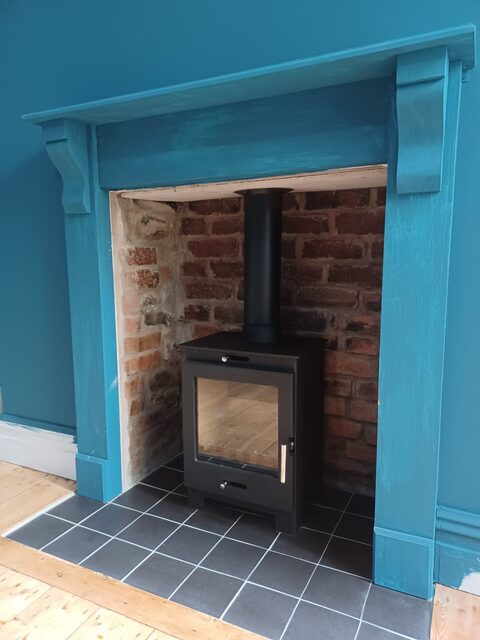 Prioritising Safety
Thorough Testing and Safety Features Safety remained a top priority throughout the installation. A rigorous smoke test was conducted on the fire and flue, guaranteeing the integrity of the entire setup. Additionally, the team fitted a carbon monoxide alarm and a hearth notice plate, ensuring the utmost safety for the homeowners.
Sharing the Warmth
Assuring customer satisfaction as a final touch, we took the time to explain the basic usage of the wood burner to the customer, ensuring they were comfortable with the method of lighting and refueling. Complete customer satisfaction is the cornerstone of every installation.
Contact Hopkins Log Burners Carmarthen
Ready to elevate the comfort and charm of your home with a Portway Arundel 5KW Woodburner installation? Contact Hopkins Log Burners today to learn more about this stunning fireplace transformation and the comprehensive range of services they offer. For further information, call 07792 837684 or visit our here.
Don't miss out on the opportunity to create a warm and inviting space that reflects your style and enhances your living experience. Reach out to Hopkins Log Burners and bring comfort to your home today!