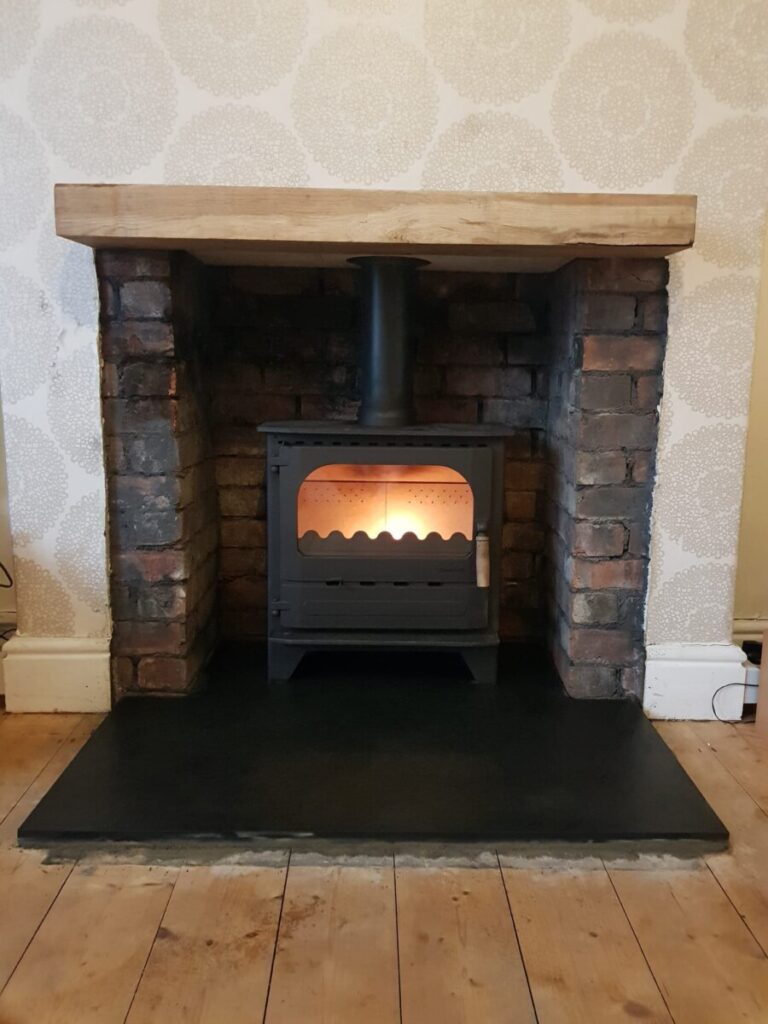 Fireplaces have always held a special place in your home, providing warmth, comfort, and an inviting ambiance. 
We recently completed an impressive installation project that beautifully transformed a fireplace at a semi-detached property in Llanelli.
Wood Burning Stove Installation: At-A-Glance
Location: Llanelli, in the county of Carmarthnshire
Post code: SA15 3YF
Property Type: Semi Detached
Contractor: Hopkins Log Burners specialist wood burner, multifuel and biomass pellet stove installers
Project: Wood Burner Installation
Make & Model: Dunsley Avance 500
KWH Value: 5KW
Flu Type: Flexi Liner
Expert Installation of Wood Burning Appliance in Llanelli
We embarked on the project by removing the existing fireplace and exposing the original brickwork.
This decision added a touch of rustic charm and character to the room while creating a captivating focal point.
The exposed brick not only adds visual appeal but also enhances the cosy atmosphere of the space.
To complement the new brickwork, we laid a new base, providing a stable foundation for the project's next phase.
A bespoke slate hearth was then meticulously crafted and laid on top, adding a touch of elegance and natural beauty.
An oak mantle was installed to add to the overall aesthetic, serving as a stylish frame for the fireplace.
The oak mantle exudes warmth and sophistication, perfectly blending with the exposed brickwork and slate hearth.
For enhanced functionality, a flexi liner was carefully fitted onto the Dunsley Avance 500 stove- ensuring optimal efficiency and safety, allowing the homeowners to enjoy the warmth and ambiance of the log burner with peace of mind.
Completed Dunsley Avance 500 Wood Burning Stove with Flexi Liner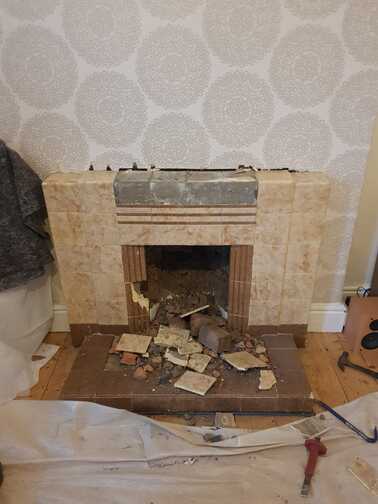 Hopkins Log Burners; The Perfect Solution for All Stove & Burners Installs in Llanelli, Carmarthenshire
Hopkins Log Burners has again demonstrated exceptional craftsmanship and attention to detail through this remarkable fireplace installation project.
By removing the existing fireplace, exposing the original brickwork, and incorporating bespoke elements such as the slate hearth and oak mantle, they have successfully created a stunning centerpiece that adds character, beauty, and functionality to the semi-detached property in Llanelli.
This transformation is a testament to the power of thoughtful design and skilled execution in turning an ordinary fireplace into a remarkable feature that enhances the home's overall appeal.
Looking for a specialists wood burner or multifuel stove specialists in and across the Llanelli and Carmarthenshire area, then don't hesitate to give us a call on 07498 959603 or visit us here