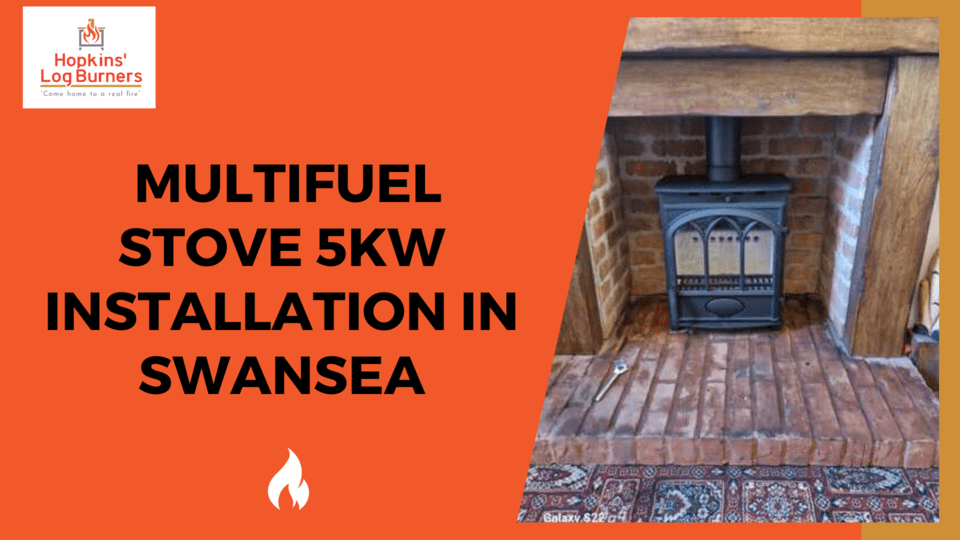 Lying along the stunning coastline of Swansea Bay, the coastal city of Swansea boasts a rich history and culture. As the second largest city in Wales, Swansea provides residents and visitors with a vibrant city centre, sandy beaches, and access to the rolling hills of the Gower Peninsula.
Within Swansea's SA1 1RG postcode, Hopkins Log Burners recently completed a multifuel stove installation for a terraced townhouse. The property owners were seeking a more efficient heating system to warm their home during chilly coastal evenings.
After an initial consultation, we proposed replacing their existing wood burner with a new 316 stainless steel liner and an efficient 5KW multifuel stove.
Overview of Multifuel Stove Install in Swansea Terraced Home
Location: Swansea, a coastal city and the second-largest city of Wales. Located along Swansea Bay in southwest Wales, with the principal area covering the Gower Peninsula, it is part of the Swansea Bay region and part of the historic county of Glamorgan.
Postcode: SA1 1RG
Property Type: Terraced Town House
Contractor: Hopkins Log Burners specialist Wood burner, multifuel and biomass pellet stove installers
Project: Multifuel Stove Installation
Make of Fire: Charlton & Jenrick
Model: FTW3
KWH Value: 5kw
Flu Type: 316 Mi Flue
Installation Details of Charlton & Jenrick FTW3 5KW Stove
The clients selected the Charlton & Jenrick FTW3 for its powerful 5KW heat output and multi-fuel capabilities. This British-made stove can burn both wood and smokeless fuels for flexible, low-emission heating.
Key features of the FTW3 multifuel stove:
Output: 5KW
Efficiency: 82%
Approved for use in smoke control areas
Steel and cast iron construction
Single air control for ease of use
Top or rear flue outlet
Executing a Safe, Code-Compliant Installation
To start the project, our technicians fully decommissioned the existing wood burner and associated flue system. We then installed the new 316 stainless steel liner, carefully threading it through the chimney from the roof to the hearth.
This flexible, 1.2mm thick liner provides a secure chimney for exhaust gases. A pot hanger cowl tops off the liner for weather protection.
With the new liner in place, we installed the Charlton & Jenrick FTW3 stove per the manufacturer's specifications.
Once fully installed, we conducted thorough testing to ensure proper draw and venting.
Completing the Project to the Client's Satisfaction
The property owners were thrilled with the replacement of their old wood burner (see image below left) for their new multifuel stove and were able to enjoy their first fire using the FTW3 that same evening.
It provides cosy, efficient warmth for their living room, while the sleek black design suits their interior decor.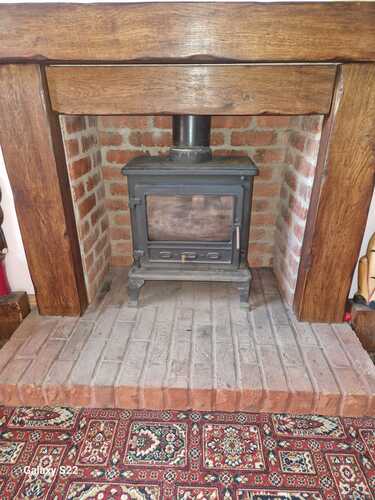 Hopkins Log Burners: Serving Swansea with Wood Burner and Stove Installations
As leading wood stove and multifuel and biomass specialists, we take great pride in completing installations like this Swansea terraced home. Our experienced team handles installations across the Swansea area.
In addition to supply and installation, Hopkins Log Burners provides:
Wood burner and stove repairs
Servicing for all brands
Flexible liner installations
Hearth & Fireplace construction
Contact our team today on 01792 949636 to discuss transforming your Swansea property with an efficient, stylish wood, multifuel or biomass stove.