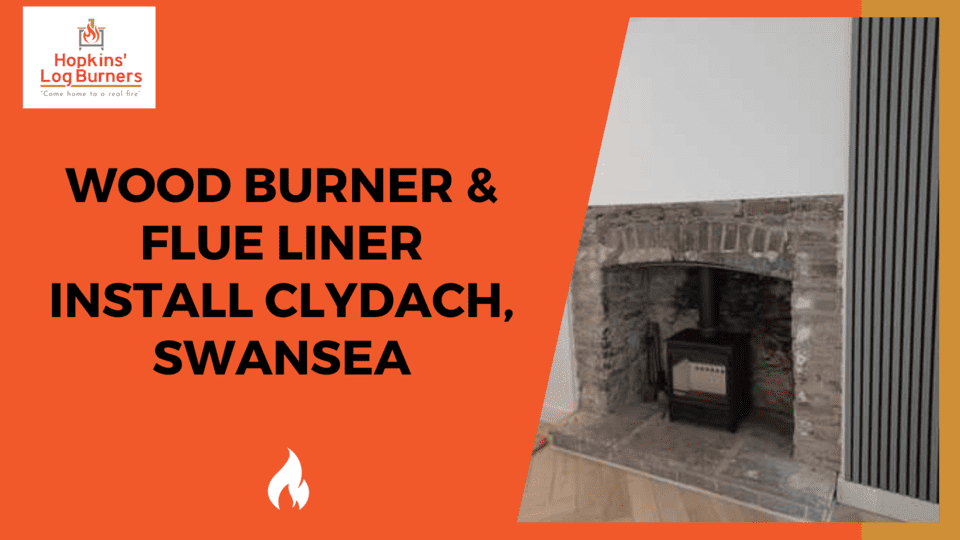 Situated northeast of Swansea, the village of Clydach lies nestled amongst the lush Welsh valleys. Neighboring the quaint communities of Trebanos and Ynystawe, Clydach charms visitors with its scenic trails, heritage sites, and proximity to the Brecon Beacons.
When a Clydach homeowner desired a cosy, efficient wood burner for their terrace, they called upon the expertise of Hopkins Log Burners. Serving Swansea and surrounding areas for over 10 years, Hopkins Log Burners specialises in wood/log burners, multifuel stoves, and biomass pellet fire installations.
5KW Wood Burner Installation in Clydach Overview
Location: Clydach, Swansea,
Post Code: SA6 5BU
Property Type: Terraced House
Contractor: Hopkins Log Burners specialist Wood burner, multifuel and biomass pellet stove installers
Project: Wood Burner & Flue Liner Install
Make of Fire: Charlton and Jenrick
Model: Eco 5 wide
KWH Value: 5KW
Flu Type: Selflex 5″ flexible liner
Detailed Clydach Terrace Wood Burner Installation
Arriving at the Clydach terrace, our technician removed the existing gas flue liner to make way for the new system. A pot-hanging cowl was fitted at the chimney top to prevent downdrafts.
An adaptor was installed, and the registry board was precisely cut and secured. Next, a vitreous pipe was sized and connected from the stove adaptor to the registry board.
With great care, the Charlton and Jenrick Eco 5 wide 5kw wood burner was positioned securely within the recess. The stove pipe was then attached to the vitreous pipe and fastened tightly.
Completing the wood burner installation, a carbon monoxide detector and data plate were installed as per building regulations. Numerous checks were conducted to ensure proper testing and functioning before demonstrating essential wood burner operation.
Completed 5KW Wood Burner Install in Clydach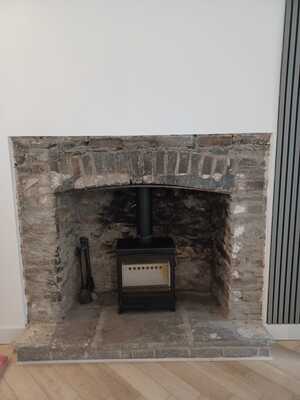 Satisfying Result in a Challenging 3-Storey Installation
Despite the challenges of working within an existing 3-story flue, our technician displayed outstanding expertise every step of the way. Thanks to their stellar workmanship, the Clydach homeowner was absolutely thrilled with their new wood burner.
The client was especially impressed that we seamlessly actualised their cosy vision within a single day. We take great pride in consistently delivering exemplary customer experiences – the perfect fuel that keeps our team fired up.
About Hopkins Log Burners
For over a decade, Hopkins Log Burners has provided top-notch services to clients across Swansea and surrounding regions. Our owner-operated business specialises in wood burners, multifuel stoves, and biomass pellet fire installations. Additional expertise includes:
Supplying premium stoves, fires, and accessories from leading brands
Professional installation of all heart products
Servicing and repairs for wood burners, stoves, and fireplaces
Flue lining installations
Led by our highly experienced owner installer, our team offers deep knowledge of all hearth systems. We take great pride in our stellar customer service, technical prowess, and commitment to 100% client satisfaction. To learn more about bringing the warmth and charm of a wood burner or stove into your Swansea Valley/Swansea area home, contact Hopkins Log Burners today.