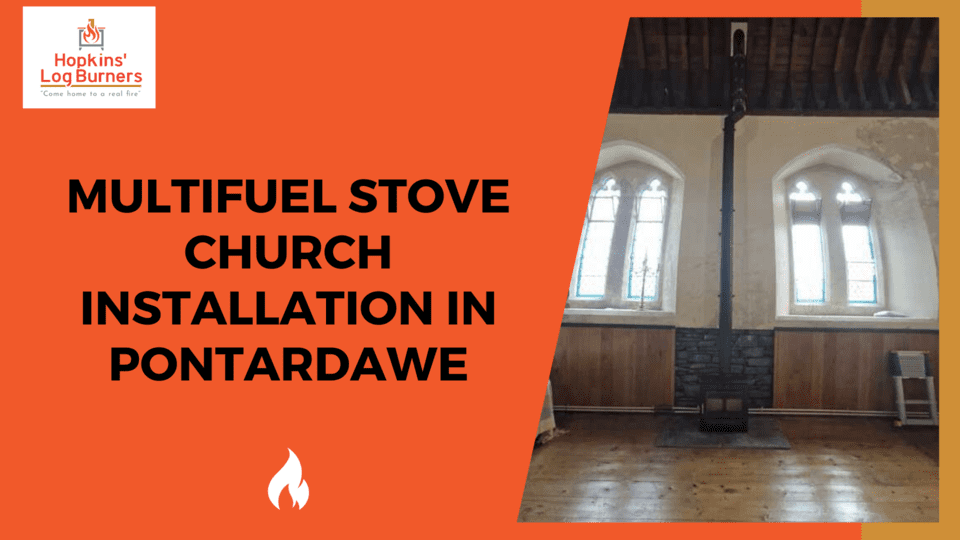 Hopkins Log Burners recently completed a multifuel stove installation for a church in Pontardawe (a town and a community in the Swansea Valley, approx 6.7miles from Neath) , adding beautiful ambiance and reliable heating to the historic building.
Pontardawe Stove Install At a Glance:
Location: Pontardawe, Swansea Valley
Postcode: SA8 4QJ
Property Type: Church
Contractor: Hopkins Log Burners
Project: Multifuel stove installation
Stove Make/Model: Woodford Chadwick 8
Output: 8KW multifuel stove
Flu Type: TW PRO 6"
Bringing Warmth and Charm to a Historic Church with a Multifuel Stove Installation
Hopkins Log Burners installed a gorgeous Woodford Chadwick 8 multifuel stove with 8KW heat output in the church, providing a stylish and efficient heating solution. With its traditional design and enamel finish, the Chadwick 8 complements the architecture and decor of the historic building.
The team expertly installed vitreous enamel pipework to maximise heat output before adapting to stainless steel twin wall chimney flu up through the ceiling and terminating above the roofline per code. The flu was sized at 6" diameter for optimal draft and performance.
The Completed Stove Installation
Satisfied Customer with Multifuel Stove Craftsmanship
The church leaders are absolutely thrilled with their new multifuel stove, stating it was an excellent investment in reliability, aesthetics, and comfort. They were particularly impressed by the craftsmanship and efficiency of the Hopkins team in completing the installation.
The Woodford Chadwick 8 is now the beautiful, functional centerpiece of the church, providing cosy warmth and timeless style. This multifuel stove installation is a testament to Hopkins Log Burners' expertise in matching the perfect hearth appliance to each unique property.
About Hopkins Log Burners
Hopkins Log Burners provides top quality multifuel stove installations and servicing for homes and businesses across the Swansea Valley area. Their services include supplying and fitting all types of wood burners, multifuel stoves and biomass wood pellet fires, as well as appliance servicing and repairs.
Contact Hopkins Log Burners Today
For more information or advice on wood burners, multifuel stoves, installations, servicing, and repairs in the Swansea Valley area, contact Hopkins Log Burners today on 01792 949639, or email info@hopkinslogburners.co.uk