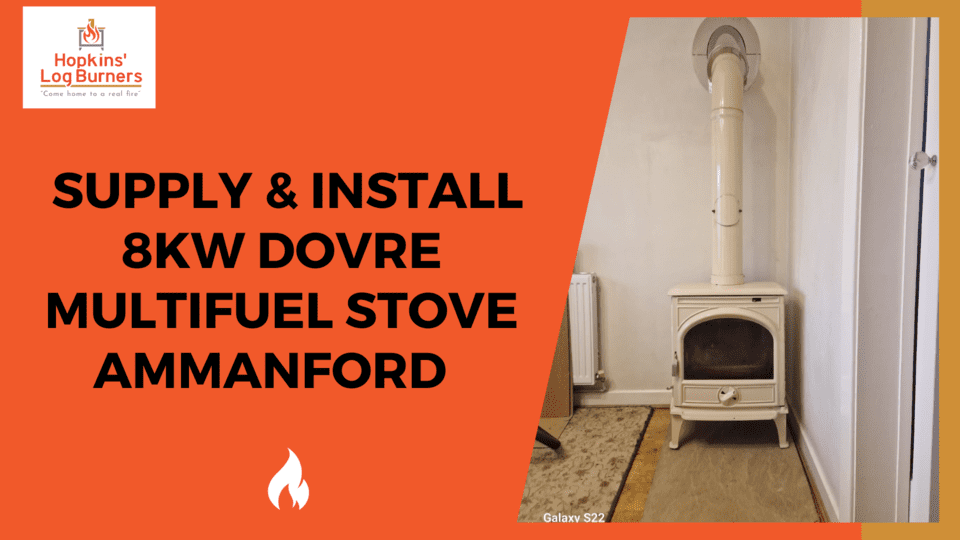 Nestled within the rolling hills of Carmarthenshire, the town of Ammanford offers a quiet respite from the hustle and bustle of everyday life. Though only a short drive from the more metropolitan Swansea, Ammanford retains its unique charms, with various villages like Llandybie, Betws, and Llanedi bordering this quaint community.
When a resident of Ammanford contacted Hopkins Log Burners about installing a top-of-the-line multifuel stove, we were eager to help them enhance their detached property and ensure their comfort within the home.
Overview of 8KW Dovre 425MFR Multifuel Stove Installation
Location: Ammanford- Ammanford, the third largest town in the county of Carmarthenshire. It's six miles north-east of the town of Pontarddulais, 12 miles north of Swansea, and is bordered by the communities of Llandybie, Betws and Llanedi
Post code: SA18 3BH
Property Type: Detached Property
Contractor: Hopkins Log Burners specialist Wood burner, multifuel and biomass pellet stove installers
Project: 8KW Multifuel Stove Installation
Make of Fire: Dovre
Model: 425MFR
KWH Value: 8kw
Flu Type: Mi flue TW PRO
Bringing Sophisticated Style and Unrivaled Efficiency with a New Dover Multifuel Stove
The homeowners desired both elegance and performance from their new multifuel stove. To satisfy their vision, we recommended the 425MFR model from Dovre, a sophisticated stove offering up to 8KW of heating power. This enabled us to align the stove's output with the home's requirements.
Overcoming Installation Obstacles with Expert Finesse
To install the stove according to regulations, we properly measured and laid a 25mm sandstone hearth below the unit.
Running the TW PRO flue at a 45° angle through the wall presented some difficulties, but our experienced engineers leveraged clever bracketing strategies to ensure stability while enabling ideal draw.
We also paid special attention to routing the flue around the soffit to promote effective ventilation. Installing the anti down draught cowl capped off the project, guaranteeing safe and reliable performance.
Achieving Customer Satisfaction with a Tailored Multifuel Stove Solution
In the end, open communication and technical mastery allowed us to deliver this Ammanford homeowner's vision of a stylish yet powerful multifuel stove.
The completed installation aligned perfectly with their aspirations, providing an efficient heat source, captivating focal point, and contemporary accent within their living space.
We always take pride in realising each customer's unique desires and overcoming any roadblocks that arise. This meticulous stove installation underscores our commitment to satisfied clients and comfortable, safe homes throughout Carmarthenshire.
Multifuel Stove Installation in Focus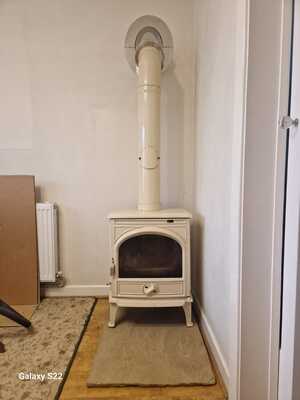 About Hopkins Log Burners: Serving Ammanford & Carmarthenshire with Quality Burner & Stove Installations
At Hopkins Log Burners, we specialise in supplying and fitting wood burners, multifuel stoves and biomass wood pellet fires to homes in Ammanford and right across Carmarthenshire.
With expertise in installation and servicing, we handle every phase of your stove project.
Our qualified engineers have the skills and experience to advise you on the best appliance for your space and needs. We also provide repairs on all makes and models.
Contact us today to transform your home with a brand new stove from Hopkins Log Burners.