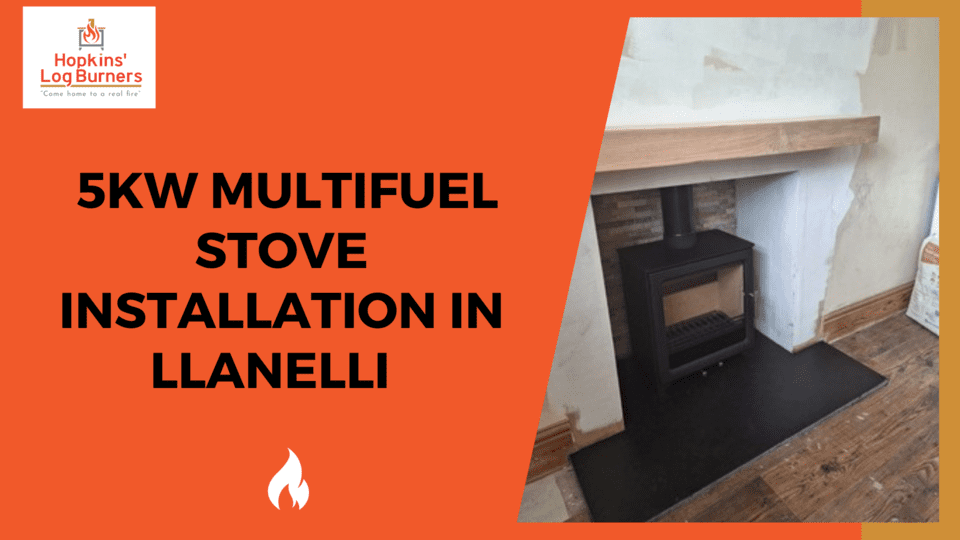 Transforming an outdated living space at a property in Llanelli into a warm and inviting room with the installation of an efficient multifuel stove from the experts at Hopkins Log Burners.
Llanelli is a historic market town in Carmarthenshire, Wales known for its coastal location and Welsh traditions. Staying warm in the town's older homes during chilly Welsh winters can be a challenge. That's why the owners of this semi-detached house in Llanelli turned to contractor Hopkins Log Burners to install a new multifuel stove to heat their living space.
Read on to learn how the ACR Woodpecker WP 5 stove transformed this house into a cosy haven.
At-a-Glance
Location: Llanelli, Carmarthenshire
Postcode: SA14 9LA
Property Type: Semi Detached House
Contractor: Hopkins Log Burners
Project: Multifuel Stove Installation
Stove Make and Model: ACR Woodpecker WP 5
Output: 5KW
Flue Type: Midtherm 316 Flexi Liner
The Multifuel Stove Installation Process
The first step was to expose the original chimney through the roof and drop a 5 inch 316 grade stainless steel flexible flue liner all the way down. This created a safe passage for expelling fumes and enabling proper draw for the new stove.
Next, the team cut and laid a custom hearth to provide a stable, protective base for the stove. They also cut, sanded, and planed a beautiful 1.2m oak beam to install over the hearth as an attractive mantelpiece.
With the preparations complete, the crew installed the 5KW ACR Woodpecker WP5 multifuel stove, aligning it properly with the new flue system. This high-efficiency model is capable of burning both wood and smokeless coal while producing minimal emissions.
Transforming the Llanelli Living Space
The new stove instantly transformed the living room into a warm, inviting space. The stylish new hearth and hand-crafted oak mantel added character and charm while also protecting the floor from errant sparks and embers.
On frosty nights, the owners can now cozy up near the flickering flames and enjoy the dry, radiant heat emanating from the stove. The ACR Woodpecker WP5 provides steady warmth for many hours, while maintaining a clear view of the fire through its large glass window.
By installing a powerful, efficient stove, this Llanelli home went from drafty to draft-free. The owners are already looking forward to spending next winter relaxing fireside with a cup of tea or hot cocoa. Hopkins Log Burners helped make this living space warm, welcoming, and worry-free with an expert installation.
Client Thoughts on the ACR Woodpecker WP 5 Stove Installation
The homeowners were thrilled with their new multifuel stove, saying:
"The new stove has completely transformed our living room into a warm, cosy space we can enjoy all winter long. The expert installation and beautiful oak mantel really added character while making the room safer and more functional. We're so pleased with the results and would highly recommend Hopkins Log Burners for any wood burner or multifuel stove project."
The Completed Installation
About Hopkins Log Burners
Hopkins Log Burners provides multifuel stove installers across Llanelli and the whole of Carmarthenshire, supplying and fitting all types of wood burners, multifuel stoves and Biomass Wood Pellet Fires. We also offer appliance servicing and repairs for all types of makes and models
For more information on all our services please get in touch with our customer support team on 07498 959603 or info@hopkinslogburners.co.uk