Here at Hopkins Log Burners we recently completed the installation of a new wood burning | multifuel stove for a home in Tonna- a village and community located to the north-east of Neath- providing an efficient and stylish heating solution.
Wood Burner | Multifuel Stove Install At a Glance:
Location: Tonma, Neath
Postcode: SA11 3DQ
Property Type: Detached House
Contractor: Hopkins Log Burners
Project: Wood Burner Installation
Stove Make/Model: Woodpecker WP5 Logstore
Output: 5KW
Flu Type: Mi Twin Wall Pro 5"
Bringing Cozy Warmth to a Tonna Home with a Wood Burner Installation
Hopkins Log Burners completed the full installation of the Woodpecker WP5 Logstore 5KW wood burner and 5" twin wall flue system for the Tonna home.
First, they built a 900mm slate quadrant hearth to safely site the stove according to building regulations.
Next, the team precisely marked out the exterior house wall to determine the optimal flue exit point. They then cut a hole at a 45° angle to properly facilitate the flue system.
The flue was constructed starting from the top of the stove through the newly cut wall hole. The first wall bracket was secured and the team sealed around the flue with cement.
A 135° tee piece was added and we continued building the flue up the side of the house, securing a bracket every metre for maximum safety and stability.
Two 45° bends were strategically installed in the flue to avoid the soffit at roof level. Another metre of flue was added and finally an anti-downdraft cowl was fitted for optimal performance.
The stove and flue system were thoroughly tested before completion. A CO alarm and data plate were installed as well.
To finish, Hopkins provided a full tutorial to the homeowners on operating the stove controls and proper lighting technique.
Their expertise and attention to detail resulted in a safely installed and optimally performing wood burning stove heating system customized for the Tonma home.
Expert Wood Burner Installation Completed at Tonna Home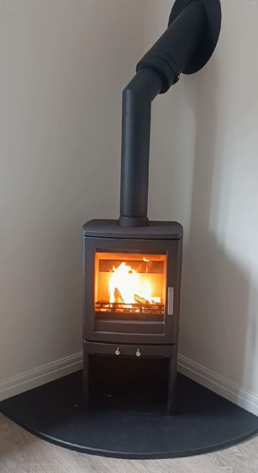 Satisfied Wood Burner|Multifuel Stove Customer Praises Hopkins' Professionalism
The homeowners are delighted with their new Woodpecker WP5 Logstore wood burner, highlighting Hopkins Log Burners' professionalism and expertise in completing the installation.
This wood burner installation proves Hopkins' attention to detail in evaluating each home to determine the ideal stove and 5" twin wall flue system. The WP5 Logstore is the perfect fit for this Tonna home, providing rustic ambiance and reliable heating for years to come.
About Hopkins Log Burners
Hopkins Log Burners specialises in installing wood burners, multifuel stoves, and biomass pellet fires across the Neath and Port Talbot area. Their services include supply and installation, repairs, servicing, and maintenance. Their expertise ensures each home gets a heating system tailored to their needs.
Contact Hopkins Log Burners on 01792 949639 or at info@hopkinslogburners.co.uk for advice on all types of stoves, installations, repairs, manintenance and so much more.