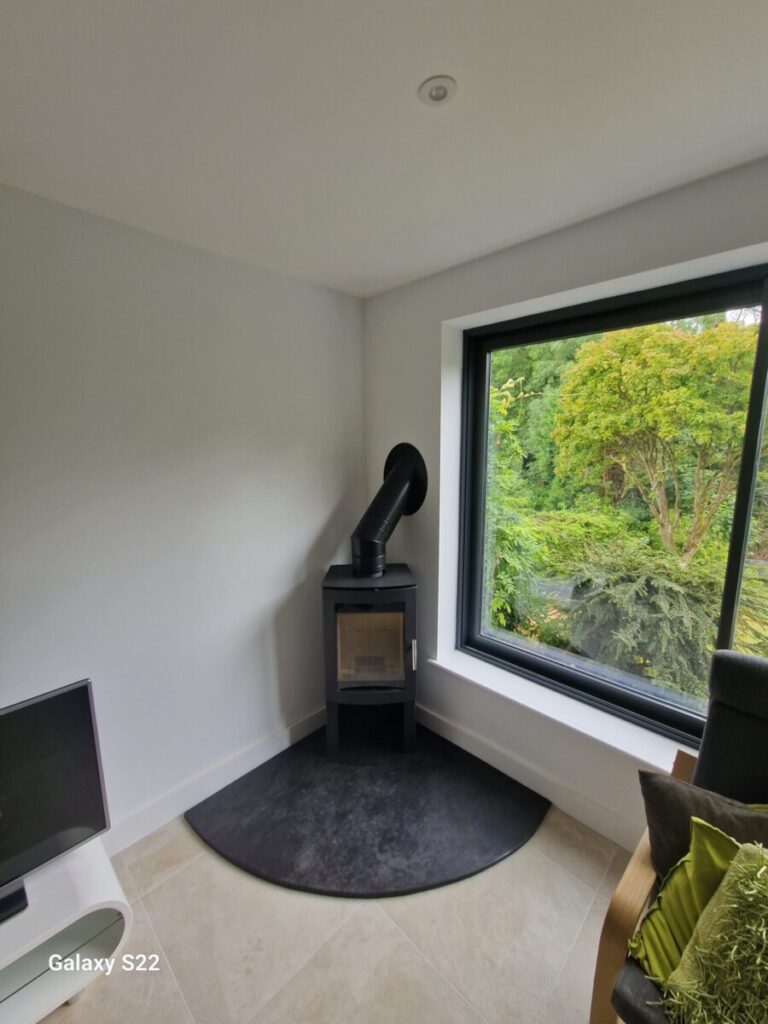 In the heart of Sketty, Swansea, Hopkins Log Burners recently undertook a captivating installation project, showcasing their expertise in transforming homes with the Westfire WF45 5KW Multifuel stove.
Multifuel Stove Install At-A-Glance
Location: Sketty, Swansea
Post code: SA2 8BA
Property Type: Detached dorma bungalow
Contractor: Hopkins Log Burners, specialist Wood burner, multifuel and biomass pellet stove installers
Project; Multifuel Stove Installation
Make of Fire: Westfire
Model: WF45
KWH Value: 5kw
Flu Type: Midtherm black TW
The addition of this efficient and stylish stove not only adds warmth to the living space but also enhances the overall ambiance of the home. Let's delve into the details of this remarkable fireplace transformation.
Bespoke Hearth: The Foundation of Elegance
At the core of this installation was the laying and leveling of a bespoke 25mm quadrant hearth. Meticulously crafted to perfection, this customized hearth served as the foundation of elegance for the entire setup, adding a touch of sophistication to the space.
Westfire WF45 5KW Multifuel Stove: A Perfect Match
The Westfire WF45 5KW Multifuel stove was the star of the show, seamlessly set and aligned to complement the aesthetics of the room. Its contemporary design, coupled with outstanding functionality, makes it a perfect match for modern homes.
Flawless Twin Wall Installation: Midtherm Black Twin Wall Flue
The skilled team at Hopkins Log Burners expertly installed the Midtherm black twin wall through the wall with an external flue. This meticulous process ensured optimal performance and safety for the homeowners. The twin wall system not only provides an efficient venting solution but also adds an attractive finish to the exterior of the home.
Embrace Comfort and Sustainability
The Westfire WF45 Multifuel stove is not just a stylish addition to your home, but also an eco-friendly choice. Its efficient combustion technology minimizes environmental impact while providing a reliable and consistent heat source for your living space.
Completed Westfire WF45 5KW Multifuel Stove Twin Wall Installation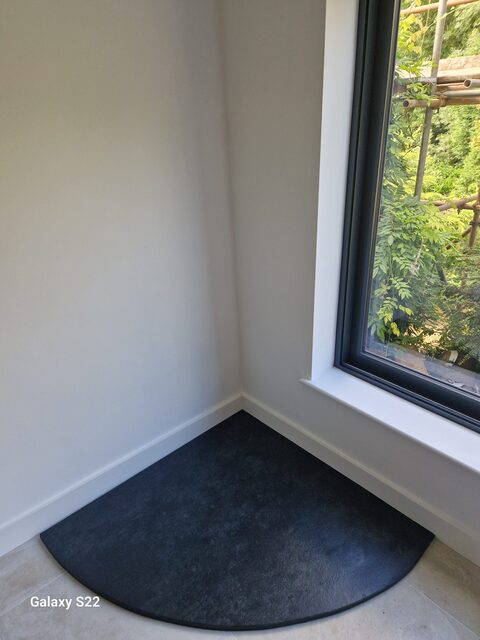 Experience the Warmth: Contact Hopkins Log Burners Today
Ready to elevate the comfort and aesthetics of your home with a Westfire WF45 Multifuel stove installation? Reach out to Hopkins Log Burners to learn more about this captivating fireplace transformation and the range of services they offer.
Don't miss out on the opportunity to embrace warmth, elegance, and sustainability in your home. Contact Hopkins Log Burners today at 07951 184293 or visit our Swansea web page for more information on the Westfire WF45 Multifuel stove installation and to explore other fireplace solutions that suit your preferences and style.
Make your home a cosy sanctuary with Hopkins Log Burners' expert installations and unmatched customer service. Experience the difference today!