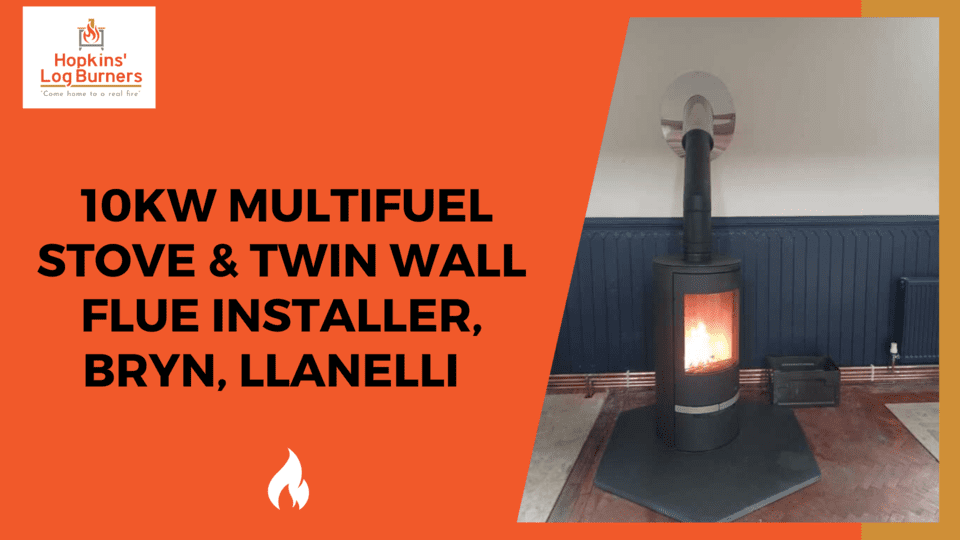 Bringing Warmth and Charm to a Converted Chapel in Bryn
Situated within the village of Bryn in Llanelli Rural, approximately 70m above sea level, stands a converted chapel undergoing a magnificent transformation. Surrounded by the villages of Llangennech, Dafen, Penceilogi, Pen-y-Graig, and Bynea, this unique property required an equally distinctive heating solution.
Having settled on a multifuel stove installation, the owners contracted Hopkins Log Burners, renowned specialists in wood burners, multifuel stoves, and biomass pellet fires. Our team eagerly accepted the challenge, determined to actualise their vision.
Project Overview of 10 KW Orion Circular Multifuel Stove & Twin Wall Flue Installation
Location: Bryn, Llanelli- Bryn is a village situated east of Llanelli in Carmarthenshire, Wales. It is part of the Llanelli Rural community, and it borders with the villages of Llangennech, Dafen, Penceilogi, Pen-y-graig and Bynea. It is roughly 70m above sea level. It is mainly a suburban area with surrounding farm land to the north and east.
Postcode: SA14 9TY
Property Type: Converted Chapel
Contractor: Hopkins Log Burners specialist Wood burner, multifuel and biomass pellet stove installers
Project: Twin Wall Flue & Multifuel Stove Installation
Make of Fire: Orion
Model: Circular
KWH Value: 10kw
Flu Type: 6″ Twin Wall PRO System
Bringing Innovation and Skill to a Complex Installation
With over 600mm of original stonework, this project demanded exacting skill and care. After placing the 10KW Orion Circular stove on the prepared hearth, our engineers marked the exterior wall for flue placement. They then meticulously cut through the considerable stone depth, both drilling and sawing, to minimise disruption.
Key Multifuel Stove & Twin Wall Flue Installation Details:
Careful twin wall flue installation through 600mm stone, sealed internally and externally
Lower bracket fixed outside at optimum 45° angle
Sleek trim plates fitted internally and externally for a clean finish
Flue positioned to avoid soffit, with twin wall system installed up the exterior
CO alarm and data plate installed for building regulation compliance
Stove fully commissioned with small test fire to ensure flawless operation
Full usage instructions provided to clients
Our expertise and commitment shone throughout the multifaceted process. Thorough planning and impeccable execution allowed us to conquer a highly complex build. The clients were delighted with the stove's sophisticated look and enveloping warmth, an ideal match for the distinctive property.
10 KW Stove Provides Optimal Heating Capacity
With its 10 kW output, the multifuel stove delivers substantial heating power for the converted chapel. Careful calculations ensured the stove would efficiently heat the high-ceilinged, expansive space. The owners were thrilled with the stove's performance, mentioning how well it heated the home while adding a cosy feel. They also appreciated our expertise in correctly sizing and positioning the stove for maximum impact.
Below are images depicting the stove and twin wall flue installation process from start to finish.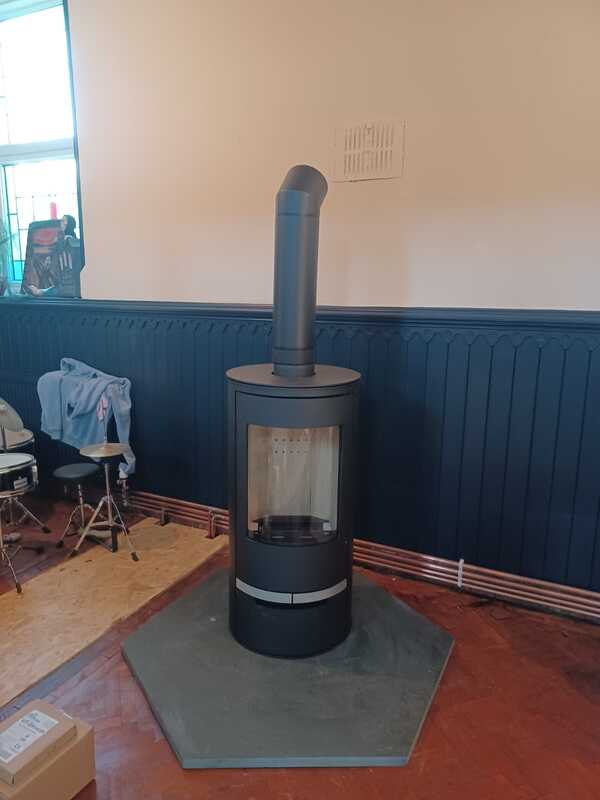 Hopkins Log Burners: Bringing Vision to Life in Llanelli & Carmarthenshire
It was deeply fulfilling to see the stove burning brightly in the converted chapel and to witness the customers' vision come to life. We pride ourselves on achieving excellence for every client, no matter the challenge. For this reason, Hopkins Log Burners has become the number one installer of choice across Llanelli and Carmarthenshire.
From supplying and expertly fitting wood burners, multifuel stoves, and biomass pellet fires to appliance servicing and repairs, we are dedicated to customer satisfaction.
Get in touch with Hopkins Log Burners today on 07498959603 to explore wood, multifuel or biomass stove options for your Llanelli or Carmarthenshire home. Our experts will help match you with the perfect heating solution to suit your style and needs.