In the heart of Llanelli, a charming installation project by Hopkins Log Burners has transformed a home into a haven of warmth and comfort. The installation of the Ecosy Rock 5 Lux 5KW Mi Black Twin Wall stove not only brings cosiness to the space but also enhances the overall ambiance of the home.
Below we explore the details of this remarkable fireplace transformation.
Twin Wall Installation At-A-Glance
Location: Llanelli
Post code: Sa14 8DS
Property Type: Detached bungalow
Contractor: Hopkins Log Burner
Project: Black twin Wall Installation
Make of Fire: Ecosy
Model: Rock 5 Lux
KWH Value: 5kw
Flu Type: Mi Black Twin Wall 5″
Some Key Features of the Ecosy Rock 5 Lux:
Output: 5kw
Efficiency: Up to 80%
Dimensions: Width 470mm x Height 585mm x Depth 330mm
Weight: 65kg
Flue outlet: Top or rear (150mm)
Log length: Up to 400mm
Emissions: Under 100mg/m3
Airwash system to keep glass clean
Adjustable legs
10 year warranty
Customised Siting: Meeting Customer's Specifications
At the core of this installation was the careful siting of the multi-fuel stove, tailored to the customer's preferences. This personalised touch ensures that the stove becomes a focal point in the room, harmoniously blending with the existing decor and layout.
Precision Roofing: Expert Cut Hole and Built Twin Wall System
To integrate the stove seamlessly, the team measured and marked thermoplastic roofing sheets before expertly cutting a hole using a multi-tool. The twin wall system was then built off the top of the burner, ensuring a smooth and efficient venting process.
Ensuring Safety and Compliance: Flue System Built to Regulation Height
Safety and compliance were prioritised throughout the installation. The team fitted and sealed roof flashing, building up the flue to meet regulation height requirements. The flue system was leveled and securely bolted to the wall with brackets, ensuring a stable and reliable setup.
Combating Downdraft: The Addition of an Anti-Downdraft Cowl
To tackle downdraft issues, an anti-downdraft cowl was expertly fitted, preventing drafts from hindering the efficient operation of the stove.
Expert Finishing Touches: Fitting Trim Plate, Co Alarm, and Hearth Notice Plate
The installation was completed with finesse, as the team fitted an internal trim plate to add a polished look. Additionally, a carbon monoxide alarm and hearth notice plate were installed to ensure utmost safety.
Customer Satisfaction Guaranteed: Demonstrating Stove Usage
As a final touch, we took the time to explain the basic usage of the burner to the customer, ensuring they were comfortable with everything. Customer satisfaction is of utmost importance, and we go above and beyond to ensure a delightful experience.
Ecosy Rock 5 Lux 5KW: Completed Installation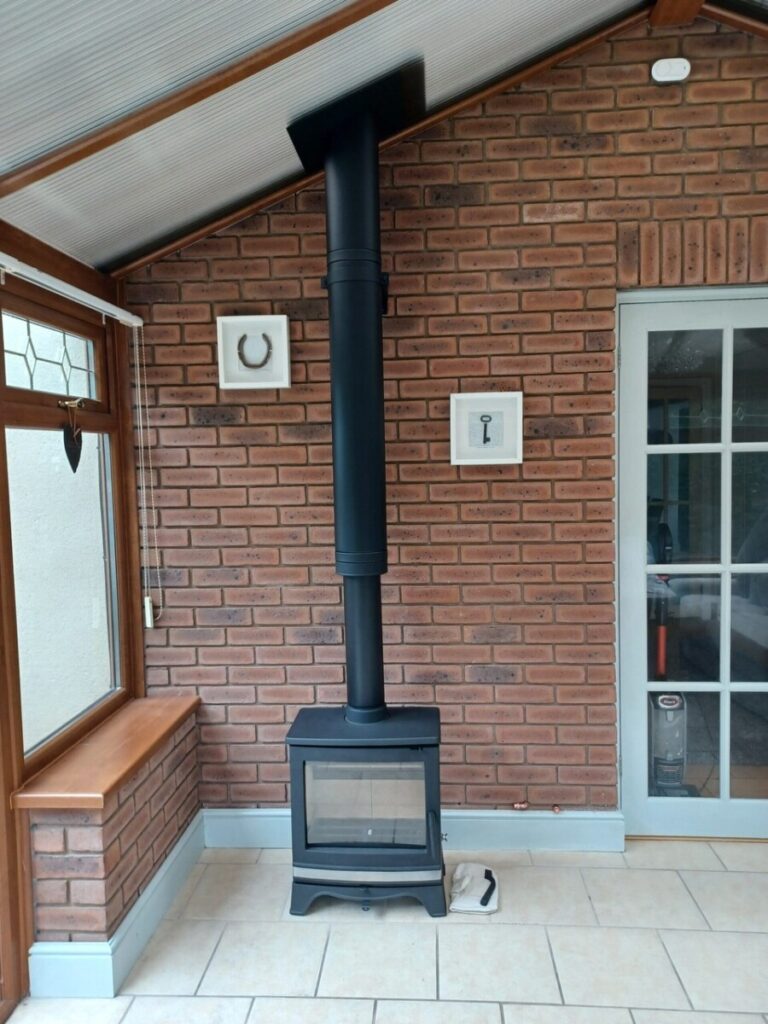 Get in Touch with Hopkins Log Burners Today
Ready to embrace warmth and efficiency in your home with the Ecosy Rock 5 Lux 5KW Mi Black Twin Wall stove? Contact Hopkins Log Burners today to learn more about this captivating fireplace transformation and its range of services we deliver to customers right across Llanelli and Carmarthenshire.
Don't miss the opportunity to create a cosy haven for your family. Contact Hopkins Log Burners at 07498 959603 or visit our website for more information on this remarkable stove and other fireplace solutions that suit your preferences and style.
Hopkins Log Burners' expertise and dedication guarantee a flawless installation that will bring warmth and joy to your home. Experience the difference today!