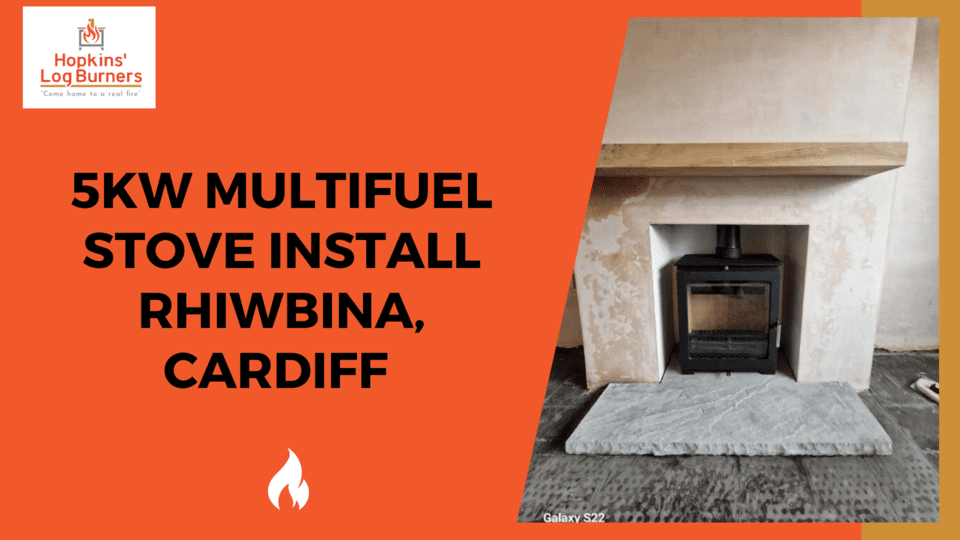 Tucked away in the northern corner of vibrant Cardiff, the charming suburb of Rhiwbina exudes a cosy, village-like atmosphere. Known for its strong sense of community and family-friendly environment, Rhiwbina offers residents a quiet respite from the hustle and bustle of the city. It's no wonder our client sought to enhance the warmth and charm of their detached bungalow in this inviting neighborhood.
To achieve their vision, they contracted Hopkins Log Burners, specialists in wood burner, multifuel, and biomass pellet stove installations across Cardiff and its surrounding areas. Our expertise was required to install a powerful yet efficient Portway Arundel XL MK2 5KW multifuel stove, ideally suited for their property needs.
Rhiwbina, Cardiff Multifuel Stove Installation Overview
Location: Rhiwbina- a popular and charming suburb in the northern part of Cardiff, Wales. Known for its community spirit and village-like atmosphere, it's a sought-after location for many families and professionals.
Postcode: CF14 6AJ
Property Type: Detached Bungalow
Contractor: Hopkins Log Burners specialist Wood burner, multifuel, and biomass pellet stove installers
Project: Multifuel Stove Install
Make of Fire: Portway
Model: Arundel xl mk2
KWH Value: 5kw
Flu Type: 5″ Selflex liner.
Bringing Elegant Warmth to a Cardiff Rhiwbina Bungalow
After opening up the existing fireplace, we cut and laid a new stone hearth to provide an attractive, durable foundation for the stove. We then installed a concrete registry board and supplied and expertly fitted the client's chosen Portway multifuel stove and a carbon monoxide alarm for optimal safety.
Portway Arundel XL MK2 5KW Multifuel Stove Key Features
Efficient heating output up to 5KW
Contemporary steel body with single-door design
Ideal for smaller spaces up to 140m3
Wood and solid fuel combustion
75% efficiency
High-quality steel construction with log guard
To securely connect the stove to the chimney, we installed a high-grade 5″ Selflex liner- this ensured the stove could vent properly for clean burning and energy-efficient operation.
Bringing the Installation Project to Life with Precision and Care
Having the proper stove and liner in place was only part of the process. We paid meticulous attention at every stage, from hearth cutting to the final fittings. Our expertise allowed us to overcome installation challenges, such as working within the confines of the existing fireplace.
Most importantly, we remained focused on fulfilling the client's vision of enhancing their home's warmth and character. Seeing the fully installed Portway stove ignite that first fire was incredibly rewarding. The stove's sleek steel styling and dancing flames infused the space with beauty and comfort.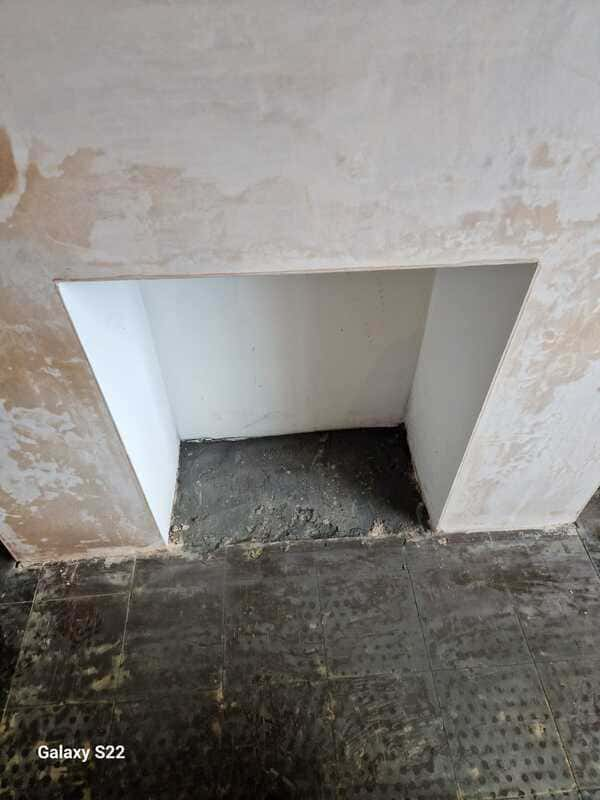 Satisfying Results Backed by Decades of Stove Installation Excellence
Our client was overjoyed with the finished project, praising our workmanship and the transformative effect of their new stove. Their satisfaction is the greatest testimony to a job well done. It reflects our commitment to service and deep expertise in installing stoves across Cardiff and South Wales, built up over decades in the industry.
Whether you desire a classic wood burner, an advanced multifuel model, or even a biomass pellet stove, Hopkins Log Burners will bring your vision to life with care and precision. Get in touch today to learn more about our stove installation and maintenance services, meeting the highest standards.
About Hopkins Log Burners
Hopkins Log Burners provides a complete range of stove services to customers across Cardiff and surrounding areas, including:
Supplying and expertly fitting top wood burners, multifuel stoves, and biomass wood pellet fires from leading brands
Servicing and repairs for all makes and models of stoves
Professional advice to find your perfect stove
With decades of experience and a 5-star reputation, contact us today to upgrade your property with a brand-new stove installation.