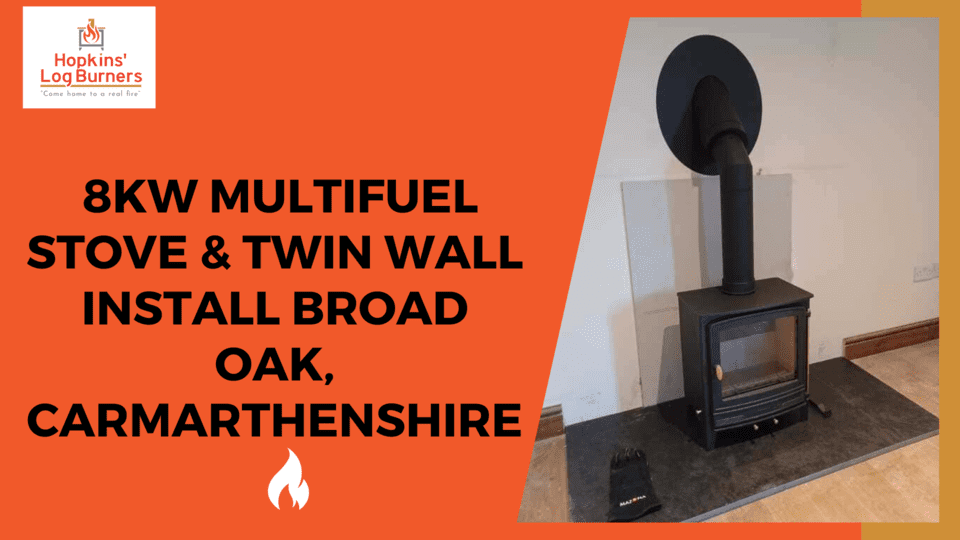 Bringing Rustic Charm to a Converted Barn in Broad Oak
Located within the hamlet of Broad Oak in scenic Llangathen, Carmarthenshire stands a converted barn undergoing a magnificent renovation. Nearby Llangathen village and Glan Myddyfi hamlet provide a charming rural backdrop.
To complement the rustic aesthetic, the owners contracted Hopkins Log Burners to install a multifuel wood-burning stove. With expertise in wood burners, multifuel stoves, and biomass fires, we eagerly accepted the challenge.
Stove & Twin Wall Installation Overview
Location: Boad Oak, Carmarthen- Broad Oak is a hamlet in Llangathen, Carmarthenshire. It is situated nearby to the village Llangathen and the hamlet Glan Myddyfi.
Postcode: SA32 8QL
Property Type: Converted Barn
Contractor: Hopkins Log Burners specialist Wood burner, multifuel and biomass pellet stove installers
Project: Multifuel Wood Burning Stove Installation
Make of Fire: Mazona
Model: Wicklow
KWH Value: 8kw
Flu Type: 5″ Twin Wall Pro
Precision and Skill for a Complex Build
This 600mm thick stone wall build demanded exacting skill. After marking the exterior exit point, we cut through the considerable depth, both drilling and sawing. With the twin wall flue and the 8 KW Mazona Wicklow stove aligned, we installed and sealed both within the wall. The flue was then constructed up the exterior beyond the eaves.
8 KW Mazona Wicklow Multifuel Wood Burning Stove & Twin Wall Flue: Key Installation Details
Flue and stove installation through 600mm stone wall
Seamless interior/exterior sealing
Protective board fitted behind stove
Rigorous smoke testing for safety
CO alarm and data plate installed to standards
All tools and waste material removed
Thanks to our expertise, the intricate process went smoothly. The owners are thrilled with the stove's rustic style and warming heat, perfectly suiting the barn aesthetic.
A Picturesque Final Result
Seeing the stove burning brightly within the converted barn, we were proud to have brought the owners' vision to life. The clients were delighted with the final result, mentioning how well the stove complements the rural converted barn. They were impressed with our skills in neatly installing the flue through thick stonework.
Below are images depicting the completed multifuel wood burning stove installation and twin wall flue system in all its rustic glory.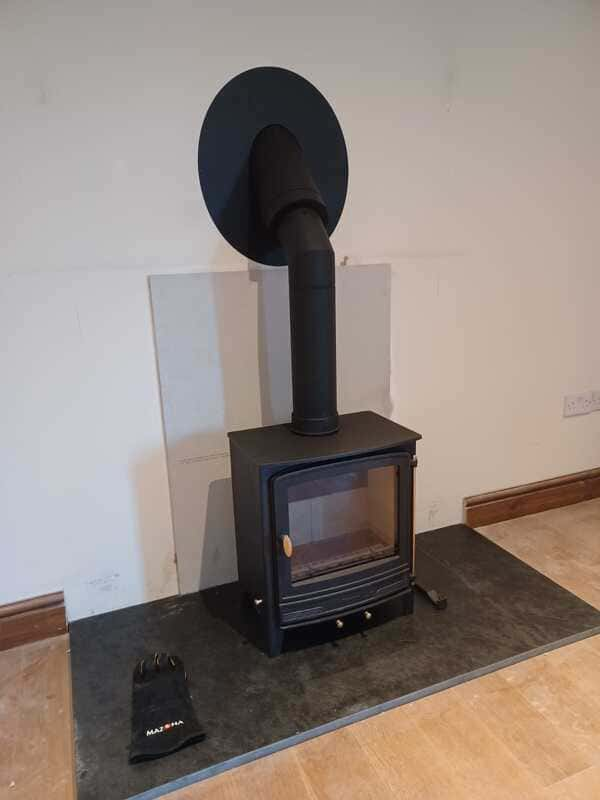 Hopkins Log Burners: The Preferred Stove Installer in Carmarthenshire
When it comes to wood burners, multifuel stoves, and biomass fires in Carmarthenshire, Hopkins Log Burners is the trusted industry leader. For over 10 years, our expertise has set us apart. From consultation to supply, pro installation, maintenance, and repair, we provide an unrivaled A-Z service. Our unmatched craftsmanship brings efficient, stylish warmth to homes across the county.
Let us customise the perfect heating solution for your home. Call 07498959603  today to schedule your consultation with Carmarthenshire's #1 stove installer.