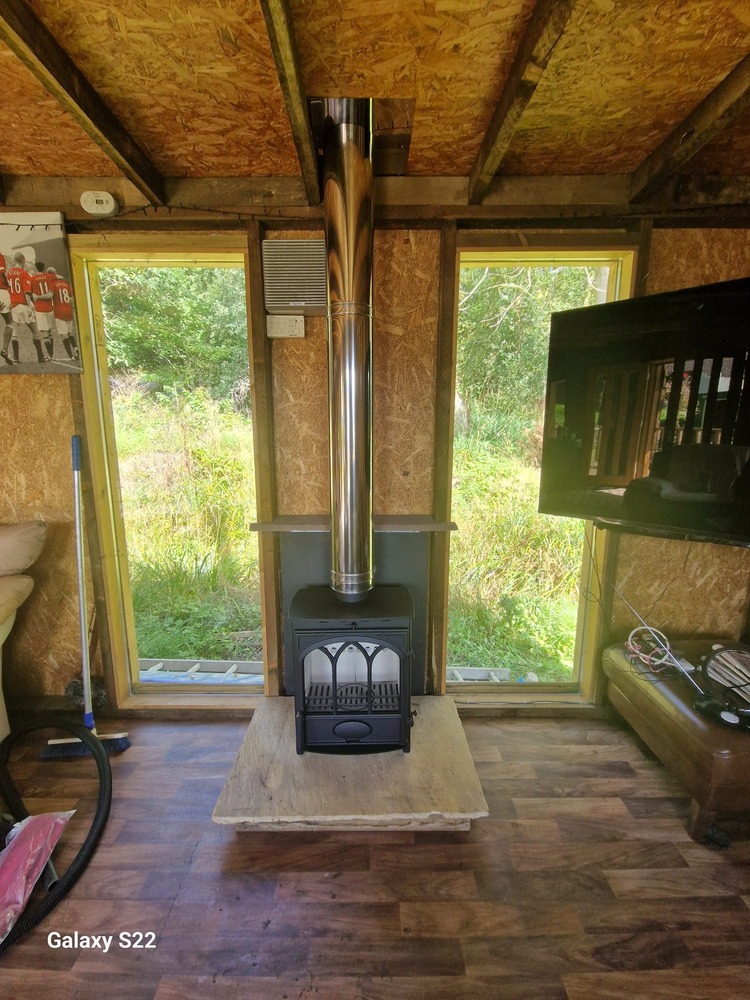 We recently completed a multifuel stove replacement for a Neath Abbey residence, expertly installing a new Fireline Wide stove and TW PRO flue system for optimal performance. The delighted customer reported a seamless experience from start to finish.
Stove Install At-A-Glance
Location: Neath Abbey, Neath Port Talbot
Postcode: SA10 6PY
Property Type: Outhouse
Contractor: Hopkins Log Burners specialist Wood burner, multifuel and biomass pellet stove installers
Project: Multifuel Stove Installation
Stove Make and Model: Fireline Wide (Tracery Door) 5kW
Flue Type: TW PRO 5″
Multifuel Stove Installation Details at Neath Abbey Property
The customer first removed the existing outdated stove and flue before installation. We installed a new 5kW Fireline Wide model multifuel stove equipped with a Tracery Door in the outhouse. To maximise efficiency and safety, a TW PRO 5″ flue was selected and routed up through the structure's rubber roof. Rafter brackets properly secured the flue, and flat roof flashing provided a tight seal against leaks.
Our technicians maintained excellent communication throughout the installation and exemplified professionalism in our work. The residence was outfitted by project completion with an optimal multifuel stove and flue system ready to provide cozy, efficient heating for years.
Completed Install of Fireline Wide Stove and TW PRO Flue System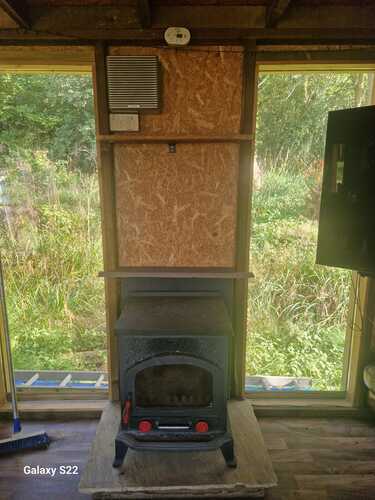 Customer Satisfaction: Seamless Multifuel Stove Installation Experience
The Skewen resident expressed immense satisfaction with the multifuel stove installation and our technicians' expertise. Scheduling was simple and seamless, and our team arrived promptly while demonstrating courtesy and skill. The modernised multifuel stove runs beautifully, serving as a centerpiece in the renovated outbuilding. This multifuel stove installation reflects our commitment to safety, service, and enhancing customer properties through efficiency upgrades.
"The entire experience was positive from start to finish. The technicians were professional and polite, and our new multifuel stove works wonderfully," said the delighted customer.
Hopkins Log Burners: Multifuel Stove Installers and Service Engineers You Can Trust
For over 15 years, Hopkins Log Burners has provided South Wales customers with exceptional multifuel stove installations, replacements, servicing, and repairs. Our multifuel stove installers have the expertise to properly size and install stoves to maximize heating efficiency and safety. We are fully HETAS approved and supply and fit all types of wood burners, multifuel stoves, and biomass wood pellet fires across the Neath & Port Talbot area.
Contact our team today to learn more about upgrading your home with a new efficient wood burner or multifuel stove. We service Swansea, Neath Port Talbot, Swansea Valley, Cardiff, Carmarthenshire, and surrounding areas.