Nestled in the charming village of Penllegaer in the City and County of Swansea, discover how Hopkins Log Burners transformed an extension of a semi-detached property in Penllegaer, adding warmth and style with the installation of a MiFlue Ovale Multifuel Stove.
This case study sheds light on the innovative work carried out, ensuring the property owner's satisfaction and the creation of a captivating focal point within their house extension.
At-a-Glance
Location: Penllegaer, Swansea, SA4 9FH
Property Type: Semi-Detached Residence
Contractor: Hopkins Log Burners
Project: Multifuel Stove Installation
Stove Make: MiFlue
Stove Model: Ovale
Heat Output: 5KW
Flue Type: Miflue Black TW 5″
The MiFlue Ovale 5KW Multifuel Stove Penllegaer Install
Laying and Leveling a Bespoke Slate Hearth
The first step in this multifuel stove installation was the meticulous laying and leveling of a bespoke quadrant slate hearth. This solid foundation ensured not only aesthetic appeal but also safety and functionality.
Precision Flue Installation
The heart of the installation was the careful alignment and direction of the black TW flue. Extending through the ceiling and beyond the soffit, the flue reached 2.3 meters from the roof. This strategic installation was crucial for proper ventilation and efficiency.
Sturdy Flue Bracketing and Bracing
To guarantee the stability of the flue, the team utilised black Miflue parts to expertly bracket and brace the flue- this ensured a secure and durable installation that aligned seamlessly with the property's aesthetic.
The Completed Stove Installation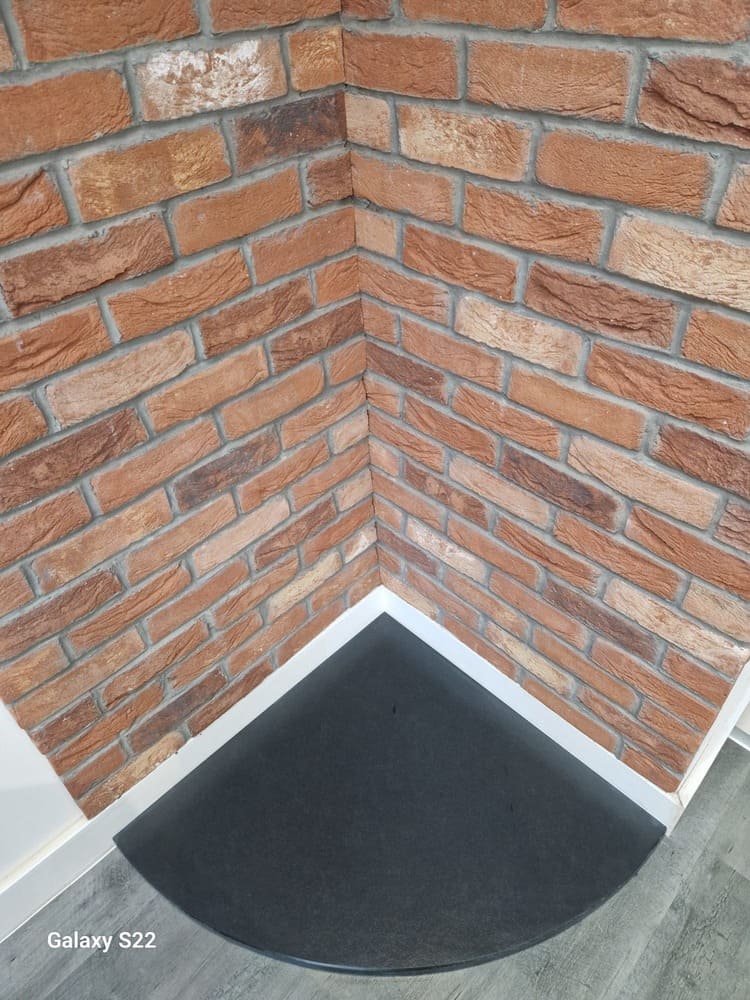 Customer Satisfaction
The results spoke for themselves. The property owner was ecstatic with the outcome of the installation. The new stove provided a substantial heat output of 5KW and elevated the atmosphere of their recently constructed extension. This new focal point became a captivating centerpiece, enhancing both the visual appeal and the comfort of the living space.
Multifuel Stove Installers Ensuring Comfort and Style
Hopkins Log Burners specialise in installing multifuel stoves that combine comfort and style. Our expertise in multifuel stove installation, including the MiFlue Ovale model with a 5KW heat output, is evident in our meticulous craftsmanship.
This case study highlights how a well-executed stove installation can transform a living space into a cosy and stylish haven. With a focus on precision, aesthetics, and customer satisfaction, we take pride in our work, transforming properties in Penllegaer and across Swansea into cosy havens.
About Hopkins Log Burners
At Hopkins Log Burners, we offer comprehensive services to customers across Swansea and beyond. Our services include supplying and fitting all types of wood burners, multifuel stoves, and Biomass Wood Pellet Fires. We're also dedicated to appliance servicing and repairs, ensuring your heating systems operate at their best. With a commitment to quality and customer satisfaction, Hopkins Log Burners is your partner in creating comfortable and inviting living spaces.
Experience the Transformation
To experience the transformation firsthand, visit our website and explore our range of services. Whether considering a multifuel stove installation or needing repairs, Hopkins Log Burners in Swansea is here to make your home cosier than ever.
Alternatively, give us a call on 07951184293 and our customer service team will be more than happy to help.