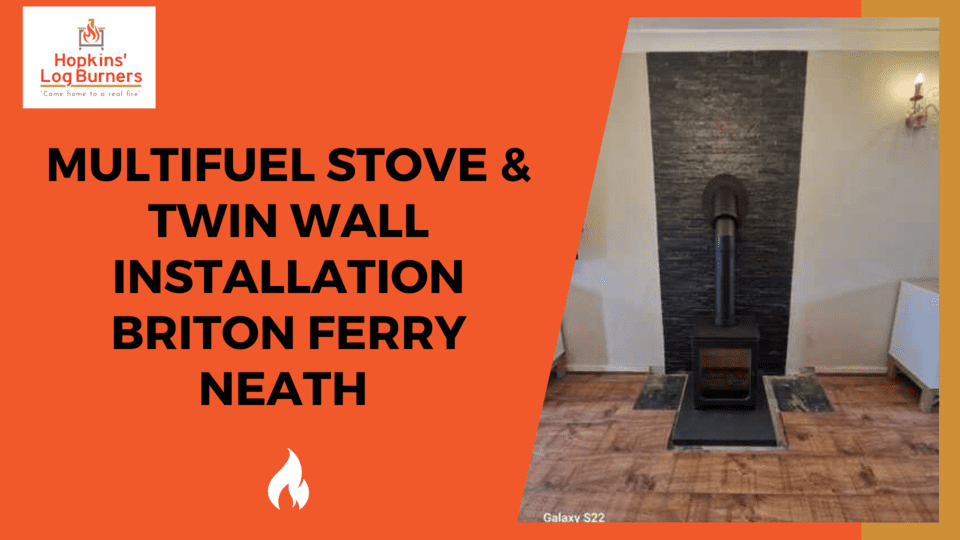 Nestled along the picturesque River Neath in the county borough of Neath Port Talbot, Briton Ferry is a quaint Welsh town with a rich industrial history. Once a vital tinplate manufacturing hub, today, Briton Ferry charms visitors with its abundant nature trails, historic buildings, and proximity to Swansea.
When a Briton Ferry homeowner sought to enhance their terraced house with a new multifuel stove, they called upon the expertise of Hopkins Log Burners. As specialist wood burner, multifuel, and biomass pellet stove installers serving Neath Port Talbot and surrounding areas, Hopkins Log Burners adeptly actualised the client's vision.
5KW Multifuel Stove & Twin Wall Installation Overview
Location: Briton Ferry, Neath Port Talbot
Post Code: SA11 2BJ
Property Type: Terraced House
Contractor: Hopkins Log Burners specialist Wood burner, multifuel and biomass pellet stove installers
Project: Multifuel Stove & Twin Wall Installation
Make of Fire: Charlton and Jenrick
Model: Pure Vision
KWH Value: 5kw
Flu Type: Mi TW Pro in silver 5
Detailed Multifuel Stove Installation
Arriving at the Briton Ferry home, our team began installing and leveling a quadrant slate hearth to create a stable foundation for the new stove. We fitted a logstore to the Charlton and Jenrick Pure Vision 5kw multifuel stove and carefully positioned it atop the hearth, repeatedly checking the leveling.
With the stove in place, we focused on the tricky twin-wall chimney installation. An adapter was fitted to the stove before installing 1.5m of twin wall flue pipe. After marking the conservatory roof, we precisely cut a hole in the thermoplastic roof sheeting.
Meticulously, we constructed the flue system through the roof, installing flashing, sealing & bolting it to the roof sheets for weatherproofing. The first wall bracket was installed, and the flue levels were rechecked before the twin wall chimney was completed. All wall brackets and components were fitted correctly.
The multifuel stove and flue were thoroughly tested and checked before completion. A carbon monoxide detector and data plate were installed. All tools were packed away, and the installation area was cleaned before explaining the primary stove usage to the client.
Completed 5KW Stove Install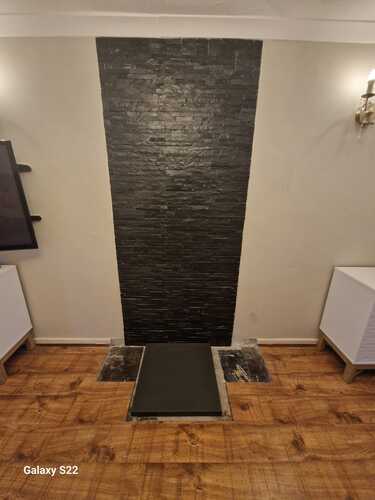 A Quality Stove Installation to Achieve the Client's Cosy Vision
Our technician demonstrated stellar expertise and uncompromising attention to detail throughout the multifuel stove installation. Their commitment to fully satisfying the client was evident in the flawless result.
The Briton Ferry homeowner was thrilled with their new focal point stove and the cosy, inviting atmosphere it brought into their living space. Ringing endorsements like this motivate our team to deliver the highest quality workmanship to every client consistently.
About Hopkins Log Burners
For over 10 years, Hopkins Log Burners has provided exceptional services to customers across Swansea and surrounding areas. Our specialist services include:
Supplying and fitting all types of wood burners, multifuel stoves, and biomass wood pellet fires
Servicing wood burners, stoves, and fireplaces
Repairing wood burners, stoves, and fireplaces
Twin wall chimney installations
Led by our vastly experienced owner installer, our team thoroughly understands all appliances and flue systems. We are fully committed to providing outstanding customer service alongside our quality workmanship. Contact Hopkins Log Burners today to learn more about our wood burner, stove, and fireplace offerings in Swansea and throughout South Wales.